Are you planning to build a WordPress blog Elementor can meet the standards for creating your WordPress blog.
When it concerns blogging, every writer and creator is aware of WordPress's existence. It is a famously known CMS or content management system, known to be powering over 50% of websites. You can use Elementor themes for WordPress to create beautiful websites. 
When building a blog in WordPress, it is essential to create user-friendly web pages, attractive and easy to navigate. As a blogger, your WordPress site is the doorway to let in users and take note of your work.
Hence, you are in dire need of creating a place that stands out, illustrates your views, matches your personality, and enables you to grow your subscriptions. 
Hence, if you want to evoke amazement and interest in your readers, you will need extra help from Elementor. Elementor will be your all-in-one problem solver to help build your website's stunning blog pages.
However, this knowledge is not enough to quench a thirsty mind. On that account, we will genuinely look at everything about Elementor and what makes it a good option for creating your WordPress blog.
What is the Elementor Plugin?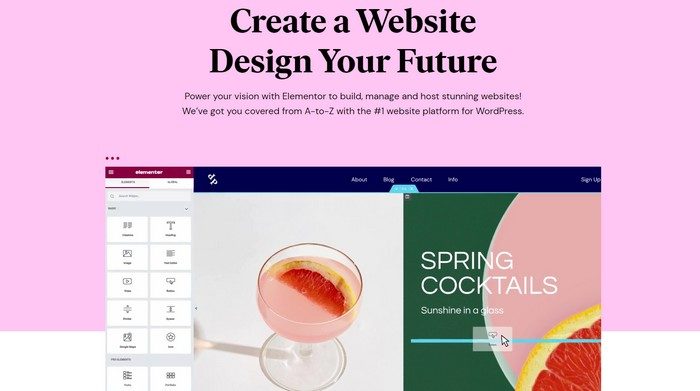 Coding can be a headache, and building a website blog without prior knowledge is a blunder. In addition, taking the conventional way of web development could be time-consuming and expensive.
To eliminate all these hassles, you can enjoy the free and top page builder called Elementor, a drag-and-drop plugin for page building.
The drag-and-drop functionality allows you to change the location of different components by dragging them from one place to another. These include images, forms, buttons, etc.
Additionally, it is a visual editor and enables users to view their website's design the same way users see it. Thus, you will know how it will look on search engines when published.
Some of the popular features of Elementor Plugin Include:
An extensive library of Elementor templates. These include blocks for individual sections and complete page designs.
Mobile-friendly designs with the capability to hide or display specific elements.
Extensive, user-friendly layout controls.
Offers compatibility with several themes.
Build online shops with its WooCommerce builder.
Benefits of Using Elementor Plugin for Blogging Website in WordPress
You now have a good idea of an Elementor plugin and the features and functionalities that make it a popular page builder plugin. Now, let us examine the benefits Elementor offers for building a blogging site.
Improved Customization
If you have ever previously tried building a blog, you must have faced several limitations. These could be regarding WordPress themes, styling options, and several more capabilities. However, with Elementor, you can say goodbye to these limitations.
Elementor offers complete control and enables you to customize your WordPress blog. The interface of Elementor is easy to use, even for beginners, and allows you to get your website running as quickly as possible efficiently.
You can choose from hundreds of templates designed by professionals and save time building a page from the ground up. Further, you may customize it using the easy-to-use controls. To edit every element on your layout, you can:
Alter the margins and padding by hand for your widgets, columns, and sections.
Change the widths of columns.
Place widgets inside a column or add columns inside a section.
Use customizable column gaps to add space between different columns.
If you do not wish to customize the pages individually, you may use the global settings to set a uniform design for all pages.
Better User Experience
Just as a musician loses its meaning without its listeners, the purpose of a blog site dies if there is no user present to read the blog. Therefore, the formula for success is simple and constitutes high-quality content and a website that caters to the user's demands.
And what do users want? A friendly website that delivers the best experience despite the device they are using. The frustration arises when you use a mobile view, the website is cut off or fills the screen haphazardly.
For this reason, it becomes crucial to design a website that caters to all mobile and desktop devices. You can rely on the Elementor plugin, enabling you to switch from a mobile view to a desktop or tablet view. You can singlehandedly adjust all elements on your page for different devices.
Elementor allows you to adjust the dimension of different elements on different devices. If a section, column, or widget is not user-friendly on a site, you can hide it with the page builder. You can also decide on the device it displays on.
Improved Site Speed
You can create the best quality content, add compelling designs to your WordPress blog, and much more. But if your website takes its own sweet time to load, chances are your visitors will abandon it before they can read your enticing content or view your stunning designs.
The newer generation is unaware of the patience required to watch the loading symbol go around until the page loads. Today, we live in a high-speed networking era, and users demand blistering loading speeds. As a result, you cannot stay behind.
Where there are other methods, such as installing several plugins to speed up your website, you can comfortably use Elementor. Elementor brings you inbuilt widgets to increase functionality.
Instead of installing multiple plugins, you can use Elementor to add sliders, social icons, galleries, contact forms, etc. Thus, it will optimize the speed performance of your WordPress site.
Cost-Effective
When planning to build a website for your organization, multiple options are open to you. The most obvious answer is hiring a web developer. But if you are newly starting your business with limited funds, a developer should be the last option on your list.
Developers are costly and may lack marketing skills. As a result, you will have to hire a different professional. Therefore, Elementor website builder makes a cost-effective solution. Furthermore, it comes in cost-free and pro versions.
The free option lets you enjoy several features, including live editing, WooCommerce builder, compatibility with several themes, and a collection of widgets and pre-designed pages. You can buy the pro version if you are satisfied with the free Elementor and would love more functionality.
Elementor Pro costs less than what you pay a developer, and it offers advanced features to build higher-quality websites. They provide a versatile form builder, built-in integrations, theme builder, global settings, etc. In addition, Elementor makes a good SEO choice by creating intuitive and interactive web designs.
Using Elementor, you can save time and ensure complete control over your website. As a result, you can use Elementor to build a website just as you want over a premium theme or developer.
Cons of Using Elementor Plugin for Blogging Website in WordPress
Elementor is feature-rich and delivers the best functionality range. But is it flawless? No. Just like the coin, everything has two sides.
There are positive aspects to the page builder Elementor, but there are also a few downsides. So, let us talk about those.
Limited Theme Compatibility
As we said, Elementor works seamlessly with most of the themes. However, it does come with a condition. Your theme's structure must be per WordPress guidelines. Further, you must verify you are using the latest version of WordPress, Elementor, and WordPress theme.
In such issues, you can try changing your theme to a default option to see if your theme is the problem. Further, you may have to check with your theme provider and ask for support. If you already have a theme that does not work well with the page builder, you can contact Elementor for support.
If you have freshly started, we advise employing an Elementor-compatible theme for building your WordPress blog.
Plugin Conflicts
Like WordPress themes, Elementor works flawlessly with almost all plugins, including WPML and WooCommerce. But it is known that Elementor faces conflicts with a list of plugins. As a result, websites may show an error.
Some incompatible plugins include Beaver Builder, Divi Builder, VaultPress, WP Migrate, SiteGround Migrator, JetPack, etc. You can look at the list Elementor provides to check whether you use an incompatible plugin.
For troubleshooting, you must go through the long process of checking which plugins are creating the problem. For this, you must deactivate every plugin other than your Elementor plugin. And activate the plugins individually to see which plugin is causing the issue.
Sometimes, a caching plugin can also cause problems. Therefore, you can try purging or deactivating it.
Conclusion
To answer your question, Elementor does make an excellent solution for bloggers. This drag-and-drop builder enables users to create stunning pages for their websites. If bloggers genuinely want to find out what Elementor can do for their website, they can try the free version.
If you are happy with the free version, the pro opens the door to several other advanced features. There are wide-ranging benefits to using Elementor starting with complete control to customize your site and a bundle of templates. In addition, elementor streamlines the development process and enables users to create high-quality blog pages.
Moreover, the free version ensures zero penny goes out of your pocket. It also offers a better user experience and enhances your site's performance. However, Elementor limits users because of incompatibility with a few plugins and themes.
Overall, Ementor is an excellent option if you are an established blogger, an e-commerce businessman looking for lead generation, or a web developer. It offers you the latest elements, extended control, and maximum functionality.
Image Courtesy – Elementor.
Disclosure: We sometimes use affiliate links in our content. Some of the links in this post are "affiliate links." It means if you click on the link and purchase the item, we will receive an affiliate commission. It helps our website keep on running and allows us to offset our writing team's cost. Thanks for your support.
Is Elementor Page Builder a Good Option for Your WordPress Blog?
Editorial Staff at WP Daily Coupons is a team of WordPress experts led by Peter Nilsson.