As a professional working in a creative discipline, it is challenging to stay on top of everything, be it the latest design trends or tools. Sometimes you want to enhance your knowledge or develop skills to take your design career to new heights, but time is scarce.
However, don't be disheartened. We have your back! Here are 7 excellent design podcasts you can listen to when working, relaxing, or simply bored! So, stay tuned!
The key to a product's success lies in a well-thought-out User experience and User Interface, also commonly known as top UI UX Design Services among techies. These elements work closely together to enhance a user's holistic experience using a company's various products and services.
The primary purpose of UX design is to generate effective, efficient, and pleasant experiences for the user. While UI design ensures the product's interface is simple to use, and understand, and functions accurately.
Whether you are a techie who is a busy bee! A newbie seeking to develop knowledge! Or simply want to stay updated in this field, you have stopped at the right destination.
7 Best UI UX Design Podcasts Of 2023
High Resolution
High Resolution is a video series-based podcast presented by Bobby Ghoshal and Jared Erondu. They meticulously interviewed 25 experts from top-notch companies such as Spotify, IBM, Behance, and eBay to create over 1,000 hours worth of content.
Through their episodes and interviews. The listeners can value the design within their organizations and effectively communicate design ideas with other larger team members like investors and business leaders.
Moreover, if you own a business. You are in for a treat because they acquaint you with the knowledge to build your design team that is successful in design processes and problem-solving.
The Hacking UI Podcast
The Hacking UI Podcast is hosted by experienced designers and developers Sagi Shrieber and David Tintner, this podcast discusses important topics such as user experience design, usability, user research, and development. The platform is used to conduct interviews with global leading firms, including Google, Facebook, Adobe, Airbnb, and many more.
This new season brings to you ten influential leaders from various backgrounds, including design managers, development leaders, and product geniuses. In addition. The podcasts can be delivered to your email and you can explore more great content and resources from them.
A recommended episode from this podcast is the 'What is design if not a way to tell a story' by Yasmine Evjen. An inspirational Design Advocate figure at Google. This episode will enable you to gain a valuable understanding of Yasmine's fascinating story and insights, whether you are a newbie or a pro.
UX Podcast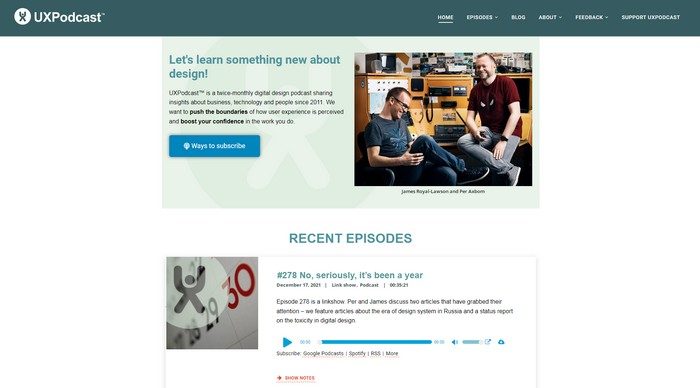 UX Podcast – James Royal- Lawson, a designer, digital analyst, and economist, joined hands with Per Axbom, a coach and visual explainer, to host this insightful podcast. Established in 2011, UX Podcast has primarily offered valuable business and technology-related knowledge to its listeners twice monthly.
The episodes are published every other Friday, and it encompasses a link show, topic show, guest show, or event show. Their vision is to expand the traditional boundaries of how user experience is apprehended and instill confidence in the listeners' work.
Moreover, UX Podcast brings you the latest information on UX conferences, meetups, and workshops. So you don't miss out on any.
UI Breakfast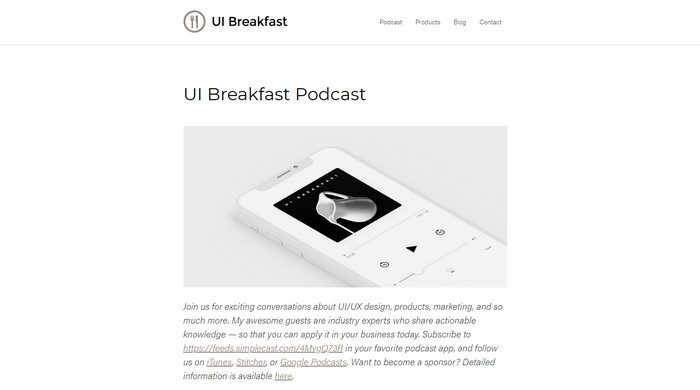 UI Breakfast – A thought-provoking and brief podcast with a plethora of content to develop your UI/UX designer skills. If this sounds like an accompaniment to your breakfast, UI Breakfast is your perfect mate.
These 45 minutes interview-style podcasts shine the spotlight on thrilling conversations with industry experts that cover topics of UI/UX design, marketing, products, and much more. In addition to this. If you have a business. This podcast provides a platform for you to showcase your brand/ product on their show by simply becoming a podcast sponsor.
With a whopping 8,000 subscribers, your brand is bound to reach a wider audience.
Google Design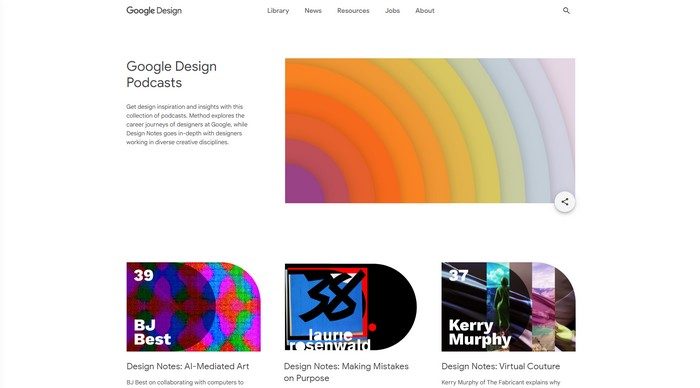 Google Design Podcast offers its listeners a unique experience of the design culture of a global leader, Google.
It comprises two main shows: Method, a show that takes you through the career journey of Google designers. Secondly, the Design Notes show, provides you with an insight into the lives of designers from diverse creative disciplines worldwide.
This podcast is also extremely helpful if you are a new designer. You can learn from other successful designers how they began their journey.
Design Matters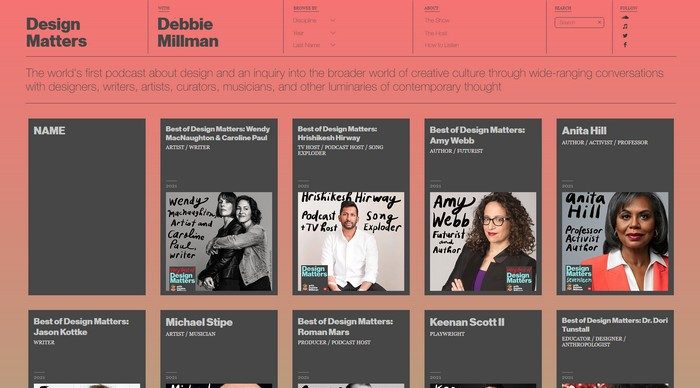 Design Matters is the world's first and longest-running design podcast with brilliant wisdom from over 300 creative professionals, from designers to actors and cultural commentators. The show's gem is the host, Debbie Milman, a skilled designer who is also an author, educator, and brand strategist.
The New York Times and Graphic Design USA have named her one of the most influential designers. Her impressive background and portfolio mirror her brilliance. So, if you seek knowledge from the finest, this is your stop!
Design MBA
Design MBA – As a free-of-charge MBA program for designers, Jayneil Dalal, host, and designer, brings you interviews with influential global designers every alternate week on Mondays.
This podcast discusses finance, problem-solving at work, and incorporating design thinking into our daily lives. It also combines the worlds of business and product designing, offering you a match made in heaven!
Furthermore, there are design podcasts for all you designers out there! So stay tuned to your desired design podcasts, and you are ready to elevate your design career.
Author Bio
Hermit Chawla is a Marketing Manager at Sprak Design. He would love to share thoughts on the Best Website Designing Company, Lifestyle Design, Branding Firm, Exhibition design, etc.
The 7 Best UI UX Design Podcasts Of 2023
Editorial Staff at WP Daily Coupons is a team of WordPress experts led by Peter Nilsson.