Website Building Tips: How to Learn WordPress Fast?
WordPress is a perfect platform for website building. You don't have to be a designer or coder to create a professionally-looking webpage with its help.
What is more, this resource is free and easy to use. In this article, we will share some ideas on how to learn WordPress in a couple of days (or even faster).
Reasons to Try WordPress
More than 20% of websites are created with the help of WordPress. Indeed, this is the most popular website-building tool ever. It is open-source, multifunctional, and highly customizable. Also, WordPress allows you to create various types of online resources.
Whether you are about to create a blog, paper writing service, or online shop, you can do it with WordPress, since it has plenty of features, plugins, and tools to offer. It is perfect for both commercial and creative projects.
You won't need to much time and effort to learn this resource. As we have already mentioned, you don't have to know any programming languages, HTML, or web design. If you are interested in learning anything like that to make your website even more impressive, then you are free to do so. However, this is not necessary for the beginning.
Millions of sites are powered by WordPress; therefore the community of profound and experienced people is enormous. It means that there is plenty of forums and study guides for you to check out. This way, you will easily find answers to your questions. But now, we will share some basic WordPress instructions with you. Let's start!
Preparations
Before you get yourself a WordPress account, you have to do the following:
Choose Domain
A domain is the name of your website. It is the word your users will type into the search bar to get access to your resource. Choosing a domain name, you should make it memorable, simple, and relevant.
Make sure to use some online domain checkers to be sure that your chosen name is available.
Choose Hosting
Also, you have to find a hosting provider to make your future website visible on the Internet.
Install and Setup
Next, you need to install and setup WordPress. At this point, you have to know that there are two versions – WordPress.org and WordPress.com. The .org one is more expanded and advanced, so if you want to make use of everything this platform can offer, you should try this one.
Installation and setup process of WordPress is simple and requires just a couple of clicks. The process is intuitive, so we are won't discuss the details here.
Learn the Basics
To grasp some key concepts and strategies of WordPress, you should take a look at some study materials. There is plenty of videos on YouTube, so you can watch them for free and see how to manage the dashboard, make posts, upload images, mp3 files, etc. The latest version of WordPress has a lot of in-built tips as well.
To understand the admin area, you have to start with terminology. Make sure that understand the difference between pages and posts, categories and tags. It is important because these terms are related to different types of online resources and you should be aware of their meaning.
When you have grasped the essential functions of WordPress, you can move to plugins.
WordPress Plugins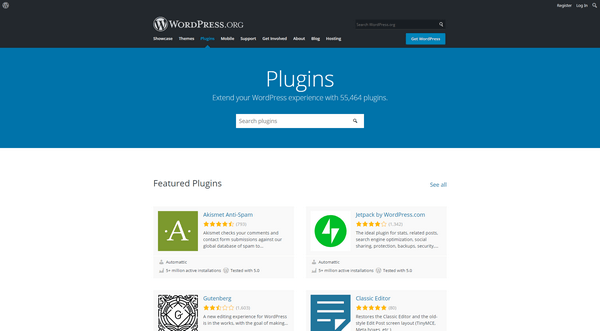 While the essential functions of WordPress are enough to build a pretty good site, the real power of this platform is in add-on features. These are plugins that allow you to expand your site's capabilities. With their help, you can add search bars, contact forms, feedback sections, store features, etc.
Also, they can help you make your website secure, which is necessary if you want to accept online payments.
There more than 32,000 free plugins you can install for free. Of course, you might feel confused about an amount like that. Start with installing the most necessary ones, like WordPress SEO plugin, WordPress backup plugin, and WPForms if you want a contact form on your page.
Also, you can take a look at the list of available plugins and choose those that you want for your website. You can install them in a couple of minutes. Gladly, you can uninstall them equally fast, so feel free to experiment. We bet that testing plugins will make you entertained.
Choose a WordPress Theme for Your Site
WordPress has plenty of free themes for your website. These are design templates you can use to make your resource look awesome. The excellent thing WordPress themes is that you can adjust and customize them the way you want.
When looking through a list of available themes, you may feel a temptation to install the one that has numerous features. However, think for a moment. Do you need all of them? Remember that a large number of elements can make your site work slowly.
So try to find a balance between beautiful design and the right amount of features.
Customize Your Theme
Even though the default themes are great, you may have some website ideas to implement in life. You may want to change some design elements or adjust the way a contact form works. Gladly, the default themes can be changed and modified to your personal needs.
Not only you can add plugins, but also change the way everything functions on your page. You can perform a couple of tests to find out if your website is convenient and clear for users.
Wrapping Up
Congratulations! Now you have your WordPress website. As you can see, creating one is a matter of a day or two. The process is rather enjoyable than complicated in any way. Just install WordPress and furnish your website with various plugins. Then customize them and get a fully-original web-resource.
You can check numerous features provided by WordPress, make sure that you don't overdo with them. Try not to install plugins that don't seem to be necessary. They exist to make your website better and more comfortable, but if you install too many of them, you might get the opposite result.
So let this small guide help you make your first steps to WordPress website building! Good luck!
Jennifer Pauli graduated from Corvinus School of Management and finished the faculty of Journalism at the Corvinus University of Budapest. Currently, She is an editor, business writer, and copywriter, working with well-known companies, blogs, and personalities. Follow her on Twitter, G+ and read the personal blog.