9+ Best Hosting Providers for WordPress
When it comes to setting up a self-hosted WordPress website, it is vital to prioritize the task of choosing a WordPress hosting provider.
Why is that? Well, because a well-chosen WordPress hosting service will assist your website in many senses. Not only will they act as a storage center for your popular site, but some of them also present customers with fantastic bonus features. In short, the right WordPress hosting provider will raise your website to a whole new level! Now comes the tricky question:
But how can we identify the "right" WordPress hosting provider? Excellent question!
However, I believe that before counting on a third party to solve our problem, we should look into ourselves first. Choosing a WordPress hosting provider is pretty much the same. Before searching for an ideal provider, you need to answer these questions:
What do I need and expect in a hosting provider?
Do I need anything special (i.e., Window applications, PHP, etc.)?
Will the traffic to my website be large or small?
After setting out these basic questions, you may narrow down the available choices by investigating. First, examine their reliability and uptime guarantees. Then, study their upgrading options and hosting features to see if they fit well with your website's orientation. Other points to check include hosting control panel, prices on sign up and renewal, and supporting features also!
Sounds like a long way to go, right?! But that is perfectly why I'm here! In this article, I will name and elaborate on the ten best WordPress hosting providers highly recommended by experts and ordinary users. Besides satisfying all those standards I raised above, they also many extra features. Let's take a look:
GoDaddy
HostGator
SiteGround
Bluehost
Inmotion
Dreamhost
Media Temple
Arvixe
A2 Hosting
Before we go, please note that this list is not in any logical order!
1. GoDaddy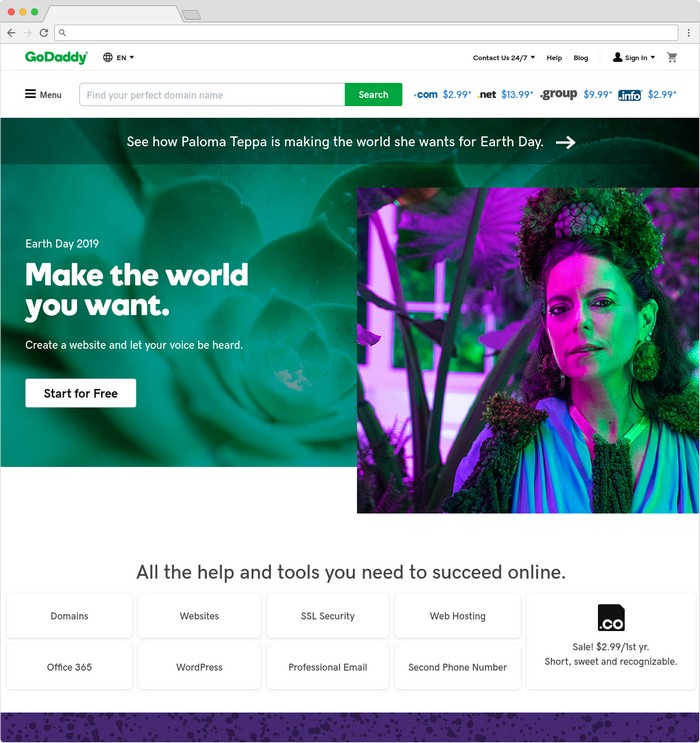 The first choice I recommend is GoDaddy.
Why? Just because it is one of the best foundations, you can find for your WordPress website. Suitable for both personal and commercial purposes, GoDaddy is well known for its reliable uptime, fantastic customer service as well as it's Linux- and Windows-based servers.
What is more, GoDaddy makes it super flexible to build up a website. With its Website Builder, you can easily add forms, slideshows, Google Maps, and any other items as you wish, just by dragging and dropping them. In addition, it also has impressive security features, the star of which is SiteLock. This service does all the app scanning, spam, and malware monitoring, as well as helping you create a site-verification certificate.
However, what I find most attractive about GoDaddy is still its customer service. Besides the 24/7 telephone support, it also has live web chat support. Most importantly, both tools are incredibly useful and fast in responding, giving customers the highest level of satisfaction when they come for help.
2. HostGator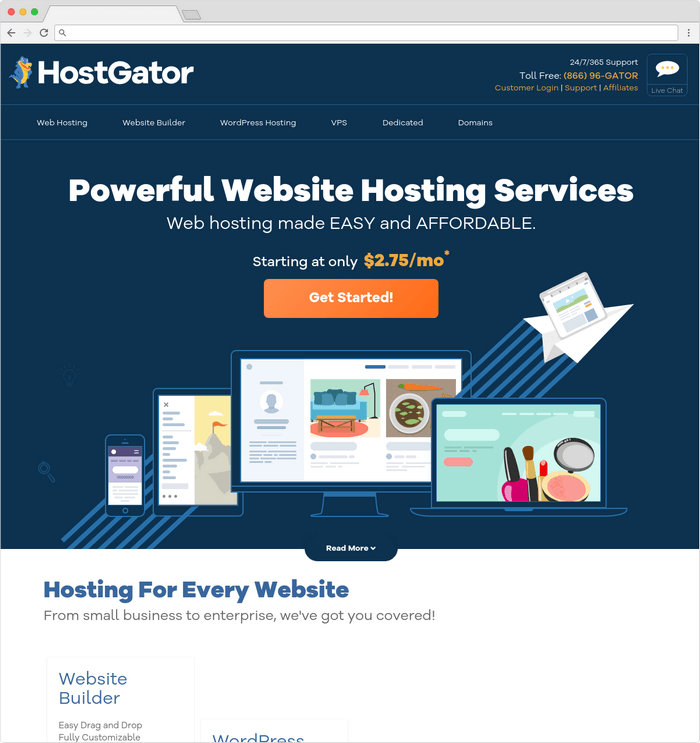 If you are a WordPress stand, you must have known of HostGator, one of the most highly-praised hosting services of all time. Sharing several similar features with its rivals, HostGator manages to stand out thanks to its shared plans.
For WordPress hosting, HostGator offers customers 03 packages: Starter, Standard, and Business. Since this is what we should focus on, I feel like digging deeper into these plans. The first one, Starter, gives you 25,000 visits per month and the ability to host one WordPress website with 50GB of storage and unlimited emails. Meanwhile, the Standard levels up to two websites, 200,000 visits per month and 150GB of disk space. Finally, the Business grants you the control of 5 sites, 500,000 visits, and unlimited storage!
If you are asking for more, well, HostGator is a genius in email managing. Not only will it give you unlimited email accounts right from the beginning, but it also allows you to set mailbox quotas, which is helpful and amazing!
3. SiteGround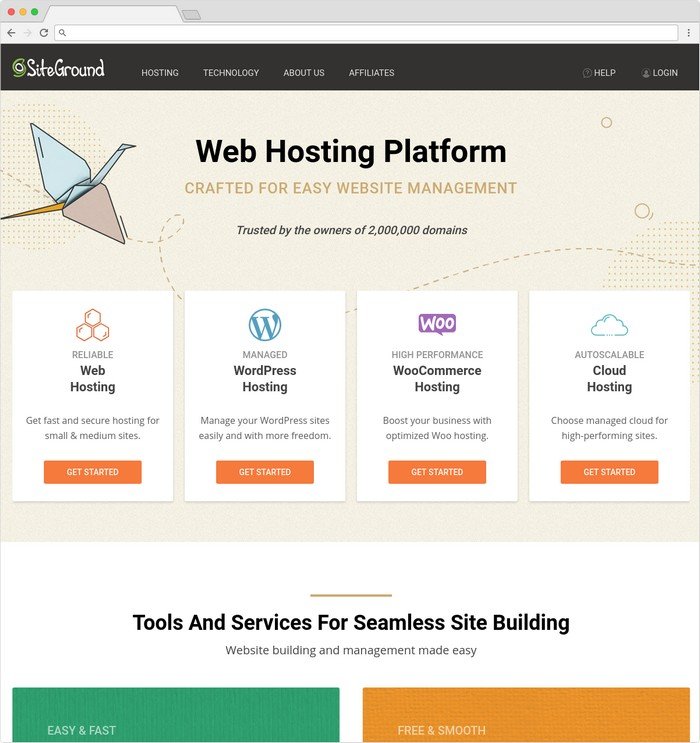 Another familiar name, SiteGround, is also featured on the list of the highly-recommended WordPress hosting services. Similar to other WordPress hosting providers, it offers shared web hosting packages, dedicated web hosting, cloud hosting and of course, WordPress hosting.
For WordPress hosting, SiteGround ensures top-notch security, automated daily backups, page caching and staging, as well as automatic content management updates. If these do not sound enough for you, please note that it also gives customers one-click installation, together with a free domain name and a free account transfer.
4. Bluehost
If you choose Bluehost to be the hosting service for your WordPress website, you may see that the content management system is preinstalled. This enables you to create posts, pages, and galleries as you wish once you are logged into WordPress. What is more, Bluehost also allows you to establish non-managed WordPress sites. By clicking the control panel's WordPress icon, you will be taken to Mojo Marketplace, where you can install the WordPress app directly and browse for themes and apps if you would like to.
One reason many people choose Bluehost is because of its rock-solid uptime. Tested by an expert, Bluehost shows that over 30 days, the tool sends an email to the website owner every 15 minutes if it loses contact with the website for at least one minute. Thus, it is safe to say Bluehost is remarkably stable.
5. Inmotion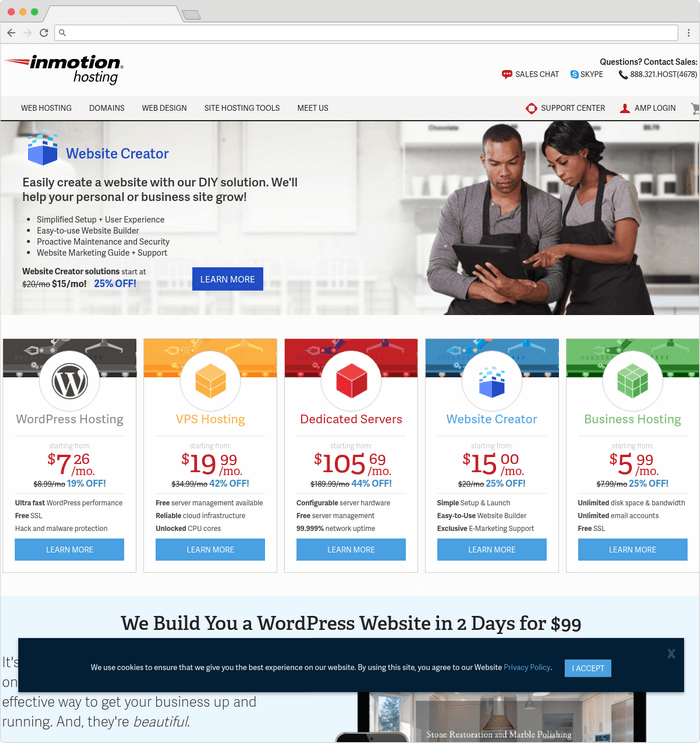 Having been in the field since 2001, Inmotion, with more than 15 years of experience, is highly praised as one of the biggest independent website hosting companies in the world. Customers are convinced firstly by its lovely customer service, which is not anything surprising since it lies in the company's strategy. However, as it is a web hosting service, the most focal point should be its performance.
Its hosting performance, together with free data backups and control panel are the three things that get the most compliments from customers. Although its pricing structure is quite vague, all you need is a little attention. If you have not decided on how much time your projects require, go for a monthly plan, not a full-year one since there will be no refund! Plus, it is not a cheap hosting service after all!
So for which type of users will it be suitable? It should be busy ones with more than two websites on their back and a willingness to pay more money than usual to get the best quality hosting service.
6. Dreamhost
Called "the dinosaur" of web hosts, Dreamhost undoubtedly is a big name in the niche. Founded in 1996, which equals to more than 20 years of experience, at the moment, Dreamhost claims over 400,000 active customers and more than 1,5 million sites. To talk about how wonderful Dreamhost is, let's talks about its amazing uptime and devoted support. The results from a test by Hosting Facts indicate that Dreamhost, together with A2 Hosting and HostGator, delivered 99.98% uptime over the 12-month review process.
What is worth to note is that Dreamhost has always maintained this percentage since 2015! Regarding the support, Dreamhost is known to be incredibly fast to connect troubled clients to its support team. After that, you are sure to get a detailed response in a matter of seconds. The best thing is, this service is on for 24/7!
One downside? Well, several people may find Dreamhost a little bit hard to deal with since they have no cPanel, which many of us are accustomed to.
7. Media Temple
Media Temple is established in 1998 and based in Los Angeles, California. Often known as (mt), Media Temple is a famous web hosting with more than 125,000 users and over 1,500,000 domains.
Regarding WordPress hosting, the provider focuses on speed and support. By making use of specialized hardware and software, such as the ultra-fast SSD storage, four levels of caching and redundant load balancing, (mt)'s Managed WordPress infrastructure claims to give you the best service your WordPress websites deserve. Not only speedy in performance, but Media Temple is speedy in providing help also. Its support team is available through chat, Twitter, phone, and support request 24/7 to assist you in time of needs.
Thus, every time you have a problem with your WordPress website hosted by Media Temple, all you need to do is letting them know, and they will do the rest.
8. Arvixe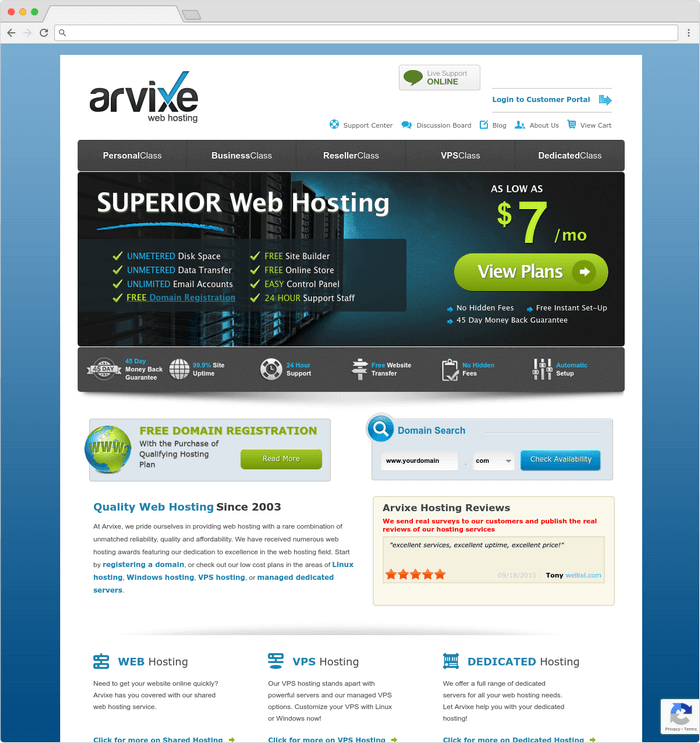 After several ups and downs, Arvixe has finally made their way back to the top, and this time, they have no intention to back down! Claiming to own one of the fullest sets of features in the niche, Arvixe has become the choice of many users. Its dedicated plans are the Editors' Choice in terms of dedicated hosting subcategory. That's how good Arvixe is! For WordPress hosting, it has plans that start at $7 per month, or $4 per month if clients commit to 2 years of using.
This WordPress hosting works under the form of preinstalled managed WordPress hosting, which ensures the best treatment for installation. What does it do for your WordPress website then? Well, it keeps the software and plugins updated, runs data backup automatically, as well as taking security measures to prevent any hackers and malware from entering your site.
Although in the old time, Arvixe encountered several issues with its support service, now it has risen from the ruins with a nicely arranged customer service. Besides the 9 A.M. to 5:30 P.M. telephone sales support, it also has a web chat. What is more, excellent uptime has also been a big thumb up for Arvixe.
9. A2 Hosting
This goodie is particularly renowned in my country, mainly due to its speed. Many users state that while it is not as well known as other web hosting services, it can be 20 times faster! I repeat, 20 times. Anyway, apart from speed, what should we know about A2 Hosting? Well, having been around since 2001 with data centers around the world, for example in the US, Europe, and Asia, A2 Hosting has proved its worthy expansion by offering many great features.
Apart from being the fastest shared hosting supplier, it also has an incredible 99.99% uptime for the last 12 months. Some other notable features include effective and quick customer support, free HackScan to keep your site safe from harm, the ability for free site migration, and of course, the 30-day money back guarantee.
So are there anything not so good you need to know about A2 Hosting? It could be the prices if you ask me. Generally, prices for its plans are higher than those of the same plans of other WordPress hosting providers.
Conclusion
As you can see from the article, each of the WordPress hosting providers above are exceptional in their terms despite the similar must-have features. Since we have millions of WordPress websites with various purposes. I believe each website owner will have a different approach to develop their website.
That is perfectly why there are so many different types and brands of WordPress hosting providers. Sharing with you these ten best WordPress hosting providers. I do hope that you will find a perfect match for your website!
My name is Thy Dao and I am a writer on WP Newsify. I am passionate about WordPress and Open CMS. I love to write about WordPress-related topics and also love to curate WordPress resources.