You may be asking yourself: "Why am I here? Why should I need a video-relating plugin for my WordPress website?"
Let me answer that question for you! 82% of Twitter users are reported to watch videos on Twitter; 500 million hours of video are watched on YouTube daily; 85% of US Internet users watch online videos (from worldstream.com). Were these numbers to talk, they would scream: Online videos are the Internet world trend right now!
Thus, if your website has nothing to do with videos, you are bound to lose the fierce battle. Well then, at this point, you may be asking another question: "But I've already got YouTube, Vimeo and multiple others of the same kind, why should I need another video player?".
Yes, I do agree that linking videos from YouTube or Vimeo to your site is a great strategy to attract visitors and by doing so, boost traffic. However, some of your visitors may think again, that why they should bother to come to your site to watch the very same videos, they could find on YouTube or Vimeo. You surely do not want to drive your visitors away, don't you?
If you are shaking your head in panic, stop right there because here I am to make sure that won't happen! Drumroll, please! The perfect video player for your WordPress site: FV Player Pro – One Ring to Rule Them All!
What Is FV Player Pro?
Video streaming has become a favorite activity on websites. Since it's not so new anymore, you do not have such a "comparative advantage." Thus, what you should do is to try climbing to the top!
And that is also the mission of FV Player Pro.
Introduced by FolioVision, the feature-rich FV Player Pro Plugin is one of the most potent and comprehensive plugins ever to exist in WordPress. Aiming at relieving the stress of video hosting, FV Player Pro ensures that you can have your custom player skin together with advanced video ads, overlays, AB loop, quality switching, variable speed playback, and searchable transcripts.
Not interesting enough? Well, it offers HLS encrypted videos too! What is more, FV Player Pro also integrates with Vimeo, YouTube, Amazon CloudFront, self-hosted and CDN hosting, Amazon S3, etc. With a similar interface on all devices and platforms, users can enjoy easy interaction with the plugin.
Core Features
I must say, looking at FV Player Pro's list of features did give me a WOW! For a plugin priced at $75, I did not expect to see so many features, let alone all of which were extraordinary! Curious, yet? Let's take a glimpse:
FV Player Pro Plugin covers a percentage of 98% browsers, ensuring that whatever browser you're using, it won't be a problem;
Support is thoroughly provided for Amazon S3 and other CDN;
Feel free to edit thanks to the HTML popup at the end of each video;
Brand-building? Do it easily with FV Player Pro by putting your logo on videos linking back to your website;
Subtitle support is built-in, making it easier for your visitors across the globe to access your video content;
The AB Loop Function assists the playback of any selected section of a video;
Vimeo/YouTube playlist integrated;
HTML overlays are there as well;
If you want, videos can also automatically start playing when your visitors scroll down the page.
Video ads feature (pre-rolls and post-rolls) has now been improved for more comfortable usage!
Now that's just a short trailer! Want to see the whole film? Keep scrolling!
1. The Amazing Video Checker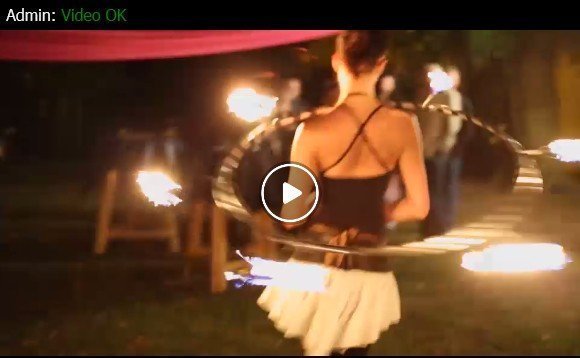 As you may know, any issues you have with the encoding of videos may lead to consequences in the playback. That being said, have you ever thought of a feature that helps you find and fix any issues associated with this stage?
Yes, you have read it right! FV Player Pro Plugin will give you the fantastic built-in Admin Video Checker that identifies anything that could go wrong before it happens.
What is even more significant is that you won't have to reactivate the feature. After you activate it for the first time, it will work automatically whenever you log in. If something goes wrong, you will get a message in a pop-up window, where you find information about the problem, as well as your video format's analysis.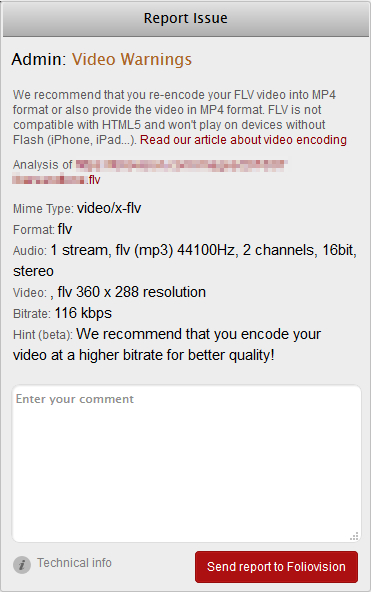 Of course, it will also include suggestions for improvements of the video, along with a section for comments which can be sent as a report to FolioVision.
2. Highly Usable Interactive Video Transcript
How great would it be to watch a video with subtitles, right? With the pro license from FV Player, you even get more than that! Want to know what it is?
Let's explore the interactive video transcript first! By attaching the VTT file, which is usually subtitles, FV Player Pro Plugin generates a transcript in a box that is placed under the video. This text will also follow the playback, showing you the current line on the screen.
Moreover, you can jump to any part you want just by clicking on the lines. That is not to mention the Autoscroll function, due to which the text box automatically scrolls down as the video plays.
Also, included in this feature is the Search bar. With this function, you can find any phrase and skip to the line that has that phrase by hitting the "<>" button.
3. Magical Video Quality Switching
Understanding deeply that customers from different regions are equipped with different Internet bandwidth, the creators at FolioVision integrate this feature so that your customers can opt for whatever video quality that fits them. It wipes away your worries that your video cannot play on mobile or blurred on large screens!
To switch quality for video, hover your mouse over the player and choose the quality type you want, which will then be remembered as a cookie.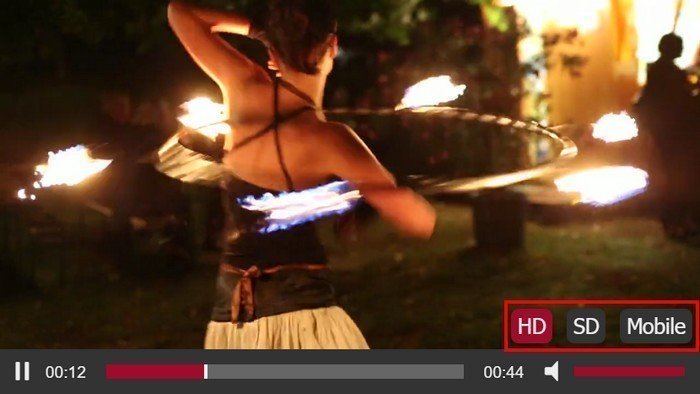 4. The Wonderful Ability to Add Captions and Splash Text
You may already know what caption is; it is the small block of text you usually see under a video, added to show the name or title of that video. With FV Player Pro Plugin, in addition to adding captions to video, you can add captions to a playlist too.
That is, however, not everything to this feature, as FV Player also offers automatic captions in YouTube and Vimeo videos. Using this option, you only need to paste the video URL into the shortcode editor, hit save/update the page, the caption will appear using the video's title. Don't want that? Turn off the feature then.
What about splash text? It allows you to add a text field, which will appear in an overlay over the video box inside a grey stripe as its background. Based on your purpose, you can either use it independently or with captions.
Surely there are a lot more about this marvelous plugin and its features. However, I did not go into details about how to set them up or how to use them because the creators already did, very carefully indeed.
You Need Proof of How Legendary FV Player Is? We Have It!
Nothing can compare with the real-life examples. Sharing the same thinking, the team at FolioVision meticulously documented successful cases of customers counting on FV Player Pro for help. Now I'll pick 3 cases which I believe to be of the most typical. Let's see what we've got!
Desiblitz.com: Desiblitz is a superb lifestyle magazine that has long realized that videos were beneficial to their contents. After some time using another product, they came to FV Player Pro Plugin which is more straightforward, easier to use and most importantly, cheaper!
CreativeScreenWriting.com: Well, running an online magazine for screenwriters is no easy job as you may stand the chance of having your videos pirated. Thanks to FV Player's encrypted HLS feature, however, CreativeScreenWriting.com can easily protect their videos from illegal downloading and piracy.
John W. Tuggle: Starting at a local music store, the thousand-subscriber music teacher John W. Tuggle took the right turn when he found out FV Player. With FV Player's AB Loop, speed buttons and playlist features, his online teaching career has thrived.
A Quick Glimpse Into Its Free Version FV FlowPlayer Video Player Free
If you asked me, I'd say I still stick with FV Player Pro Plugin. However, in case you believe your WordPress website can fully function with the free features of FV FlowPlayer Video Player Free I elaborate below, then be it.
The chances are that one day, you will come to love FV in general and want to try its FV Player Pro too. Then, what has the free version got that could make you fall in love with FolioVision products?
As a free, easy-to-use and the perfect solution for embedding FLV or MP4 videos, FV FlowPlayer Video Player Free offers a lot of features, including:
Easy AB looped playback for your visitors;
Playlists with more powerful features coming soon;
100% responsiveness guaranteed;
Logged in admins can automate checking of video encoding;
No other expensive plugins are needed since all advanced features are already present in the standard license.
Built-in custom start and end screens allow you to be as creative in custom design as you wish!
Providing full support for Amazon S3, CloudFront and other CDN's!
And many more!
Final Thoughts
You may question the greatness of FV Player Pro Plugin since you haven't tried it. But from what I have just shown you, it is utterly ignorant if one denies the fact that this is such a powerful, intensive and feature-rich video player plugin for WordPress.
Besides, speaking from my own experience when shopping. It is most advisable to choose products from a brand that cares about their customers. FolioVision is one of those.
Must be genuinely caring to bring us such a thoughtful free version, they also offer a constructive forum where free support is available. In case you need more intense support for more significant problems, Pro support at $70 is ready to help.
Demos and detailed instructions about how to use the plugin can be found in its Documentation, which I believe to be of the most useful, well-written, and comprehensive documentation ever!
Also, you may take a look at the extensions and other products in FolioVision store!
FV Player Pro Plugin seems like a real bargain to start a new project of prosperity and growth!
Level Up Your WordPress Website With The FV Player Pro Plugin
My name is Thy Dao and I am a writer on WP Newsify. I am passionate about WordPress and Open CMS. I love to write about WordPress-related topics and also love to curate WordPress resources.