Businesses learn to embrace Artificial Intelligence in today's ever-competitive landscape. Do you know why? It helps the business grow in the right direction. Technology is evolving daily, and so do the business capabilities to adapt to these changes.
Communicating with customers through live chat has been of the trends, and it creates a lot of real-time customer service, which the customers love.
Let us also understand that today, human chat service representatives are hugely replaced by AI chatbots that can handle queries anytime with instant communication. But you can configure it well in the CRM software to ensure that it meets the business objectives well in terms of excellent customer service.
Workflow Builder helps you configure the workflow or the process you want. 
You may wonder whether AI will replace customer service agents or not in the near future. It may be true, but it can have better growth for your business. Let us dive deeper into this and help you understand the next steps.
What Is an AI Chatbot?
An AI Chatbot is a software application that engages in human conversation naturally. It is commonly used by businesses of various sizes and niches to have a seamless conversation with customer queries.
It works with natural language processing (NLP), which helps users interact through text, graphics, or speech.
They are widely used in various channels and applications like messaging apps, mobile apps, websites, and voice-enabled apps.
Why Use AI Chatbots?
AI chatbots help businesses in many ways – it offers several benefits for companies. Most companies use them to experience virtual agents to handle customer service issues.
Businesses can use AI chatbots to improve and enhance their customer service, reducing unwanted resource costs and getting more ROI.
It encourages self-service with easy access to the knowledge base software, which is the repository of information.
Impact of AI Chatbots on Business
With the rising demand for AI to simplify your day-to-day operations, let us discuss some of the major impacts that businesses experience in customer service operations and experiencing better business growth.
1. Improve the Way You Do Customer Service
At the core of every business, customers need to be treated with care and attention. The application of AI chatbots helps you to deliver timely and responsive customer service with zero waiting time for your customers, even if the query is raised outside your business hours.
Not just that, it can also handle multiple tasks simultaneously, making the service rep's job much easier.
Some tasks may be troubleshooting, handling customer tickets, interacting with clients, etc. These are some of the configurations that businesses can look at.
In addition to the above, AI chatbots have the specific feature to initiate a conversation with the client – being more proactive and helping them when in need. No waiting in line for the customers. They get the answers to the queries in no time.
2. Personalizing User Experience
Being supportive of businesses with chatbots, AI is also helpful in providing better customer service. It can analyze data and tailor the services to align with the need of the hour. It also recommends based on these rankings – like top ten lists or based on new arrivals, good ratings, etc.
With AI, the recommendation of products is very limited for businesses as it focuses mostly on the customer's point of view.
AI chatbots can reduce the waiting time and get you the real-time product and services aligning with the customer's needs at any instant. It can collect data from multiple sources like geo-locations, personal preferences, weather conditions, and much more in favor of the customers.
3. Trust Factor for the Brand
AI chatbots are hugely used to build trust, and it helps to maintain a worthy relationship with your customers. Customer loyalty can be provided both online and offline with AI support.
Today, the emotional connection that the brands use to connect with the customers using adverts is just over. It's all controlled by AI now, and adverts are not just enough to serve the needs.
Self-service would be made much more feasible, cutting down costs and expenses, and then customers can reach out to humans only when the bot does not resolve the problem or the query.
This indicates that the power of AI is huge, and its domination in the customer service industry is also huge. It cuts down the resource cost and streamlines operations.
4. Ease of Communication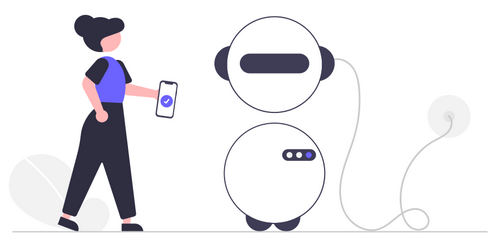 One of the biggest advantages businesses enjoy with an AI chatbot is the ease of communication and the timeliness of responding to queries generated through any mode or channel. It makes your customer interaction much more accessible and simpler.
Moreover, it makes use of intelligence in customer service. It is a great step towards getting better. Businesses have already started adopting it to experience business growth.
5. Never Compromise on Your SLA (Service Level Agreement)
A Service Level Agreement (SLA) is a very crucial piece of information when you deal with customer service.
Whether in the product or service-based industry, you need to build the SLA and ensure that it does not exceed the timelines mentioned to be in the safer zone in delivering the best to your customers. SLA management is simplified for you.
So, How Do You Go About It?
Businesses have already understood the rising need to embrace AI technologies, and AI chatbot is an excellent example. It makes your customer service much better.
If you are also looking to make a change in the way you deliver customer service, it's time for you to go for an excellent AI chatbot and helpdesk software that creates a difference in your process better.
Yorodesk is an example of helpdesk software that can make a difference in the way you do customer service.
How Can AI Chatbot Make an Impact on Your Customer Support?
Editorial Staff at WP Daily Coupons is a team of WordPress experts led by Peter Nilsson.