Reviewed: Free Compact One Free Theme from CyberChimps
When you visit a website these days, how many pages do you end up navigating while you are browsing? Maybe one, maybe two. Very rarely do you go beyond this number, simply because it is inconvenient, and that you are short on time!
This is how it is with your website visitors as well! Yes indeed.
So why not put your content on one page, to ease convenience for your visitors? No need to navigate through multiple pages for information. Sounds interesting, right?
So what you really need is a single-page theme. And CyberChimp's offering, called 'Compact One', offers you just that.
It is specifically designed to exhibit your details and work on a single page and is powered by CyberChimps' extremely robust framework. It follows the latest WP guidelines and coding standards.
Compact One gives off an extremely professional, elegant vibe and is quite suitable for business sites big or small as well as agencies, portfolios, or startups.
The theme is currently actively installed by over 600 users in barely a month. The free WordPress theme offers highly premium features!
Let us look at the features offered by the free WordPress theme:
Compact One (WP One Page Theme) Features
1. Customization: The theme has 7 different sections which can be customized as per your requirement and creativity. These sections include About, Features, Testimonials, Portfolio, Contact Form, and Sliders.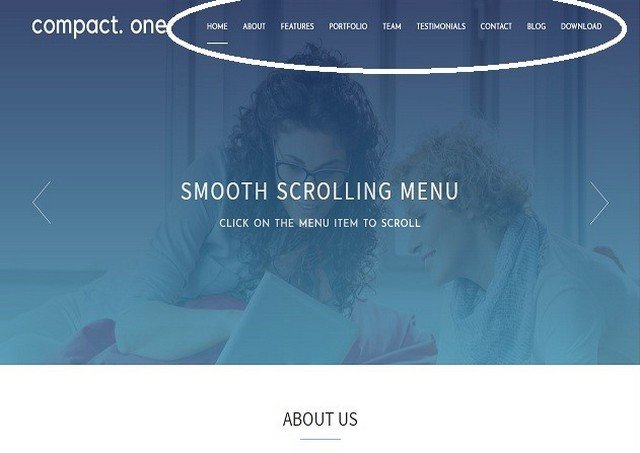 This welcome or home page of the Compact One theme consists of seven customizable sections –About, Slider, Features, Work, Team, Testimonial, and Contact. Initially, you must create a new page Homepage and set this as the display page WordPress site settings.
Slider Section: This is an inbuilt slider on the homepage. Highlight the services you offer in this section. You can choose from three different options for customizing and highlighting the text on the slider. The slider section is limited to a single category of posts and images can be displayed sans the gradient overlay as well.
About Section: It houses two sections. Skills in the form of progressive bars and Company Values which are text-based.
Features Section: A Features page can be created with a special features image. These posts are also based on the categories for content.
Work Section: The work section can be used to showcase your portfolio, it offers customization for three different categories.
Team Section: This portion of your site can be used to show the strength of your team members with featured content and images. Team section posts are based on a single category for content.
Testimonial Section: The testimonial page can be utilized to demonstrate reviews of your business/portfolio and it offers featured images and content for each post. These posts are also based on a single category for their content.
Contact Section: This segment offers three sub-sections- a contact form, a section for contact information, and a bottom section for displaying a Google map for your location.
2. Sticky Header: The sticky header portion has two levels. In one level, the header can be navigated into and the other level exhibits the currently active section. The sticky header can be uploaded with say your logo instead of the default logo provided.
3. Smooth Scrolling: The smooth scrolling menu can be easily perused without any kind of disturbances.
Smooth Scrolling with CompactOne Free WordPress Theme
4. Responsive Slider: The theme is equipped with a highly responsive slider. Which keeps a uniform look and feels over all kinds of devices, appealing your customers or readers further.
5.Gradient Overlay: The slider image can be either enabled or disabled to use the gradient overlay format.
6. Slider Options: The theme offers you a choice between 3 different sliders for the text area.
7. Mouse Hover Effect: The gallery and portfolio sections have an animated mouse hover effect. This allows the customer to easily look through your website.
This single-page WordPress subject gives you the opportunity and usefulness of a customary website –, for example, numerous pages, and blog entries – yet with a spotless, simple to-explore outline. Smooth looking over and a rich tasteful are among the features, and you'll have the adaptability to redo the style and highlights.
This free WordPress theme additionally incorporates Demo Data that you can import into your website (all the substance and pictures found in the demo). There are Step by Step Video Tutorials to enable you to set up your site without a glitch, and support is accessible by means of the CyberChimps Forum in case of any issues.
Want More?
So you want more customizations from your Compact One free WordPress theme so that it stands out even more? Perhaps you wish to customize it further to match the looks and design of your business. Well, you can do so by using the Compact One Pro Plugin!
It offers:
Call to Action Button to slider image.
Customize the Title display colors.
Changing Menu text hover colors.
Customizing the background color of the menu.
Customizing Features Sections' background.
Option to enable a circular border for the features section.
The CompactOne Pro plugin is compatible with the CompactOne Free them. This add-on feature is specially designed to offer advanced features for your theme with an easy-to-use plugin. The plugin gives you many more options for your Compact One free WordPress theme to customize it according to your requirements!
In Conclusion
A one-page professional theme with more than premium features packed in-why not give it a try? It will definitely help you give an edge to your business website or blog or portfolio. Plus the Compact One Pro plugin comes at cool $27 price tag. If you really wish to customize your website further, you can definitely give this one a try.
Susmita is an engineer, a writer, and a dancer – not necessarily in that order! Ever since she discovered WordPress, she has not ceased to be amazed by how this community-driven platform brings people together – in more ways than one. And yes, she loves binge-watching movies!