Why Flipbooks Are Important to Rock-Star Marketers
The digital era is changing marketing as we know it. It's unstoppable. However, it hasn't exactly made marketing easier. Quite the opposite, actually! It has only elevated the competition and changed the medium of communication.
On one end of the spectrum are conservatives who are particularly reluctant to abandon their beloved print publications. They almost automatically reject electronic materials. While on the other side are hard-to-please progressive thinkers, who unforgivingly scrap materials that don't meet their standards.
Both these groups present an obstacle to marketers. But any good marketer appreciates a challenge. After all, you only get to call yourself a real marketer if you can bring folks on board. Fortunately, tools like flipbooks can help you captivate even the most stubborn prospects.
What Are Flipbooks?
A flipbook is an online interactive publication. It's a digital format of print documents such as books, magazines, newsletters, flyers, brochures, and catalogs. Designed for mobile devices and computers, it improves on the traditional reading experience by allowing users to add interactive elements like images, videos, and links.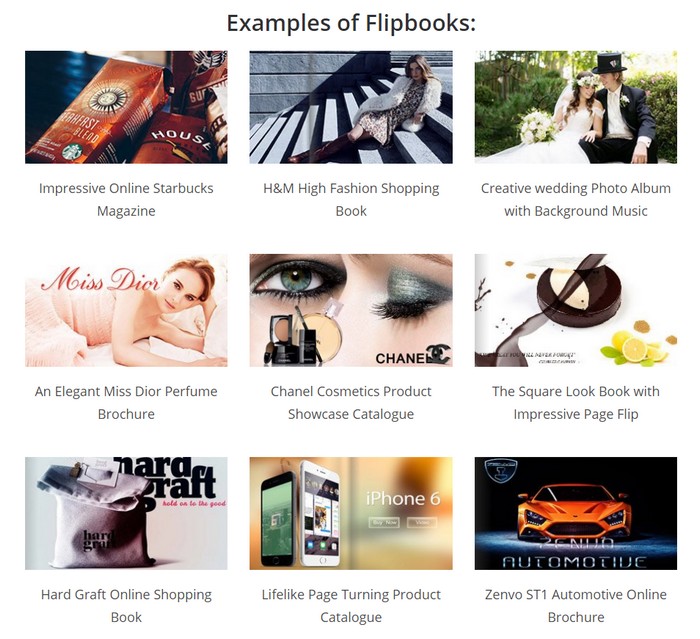 How Do I Use Flipbooks?
Flipbooks are marketing gems. They're the marketing tools of this generation, in the same way that overhead transparencies and PowerPoint presentations were in the past.
Recall your experience as a student. Or think about the manual that came with the last appliance you bought. It's easier to remember lessons and follow instructions when there are visual aids, isn't it?
Similarly, a pitch becomes more effective when paired with a powerful visual aid. This is supported by studies, which we'll discuss more below. Tap the endless potential of flipbooks and see how your revenues can skyrocket.
Why Is It Important to Utilize Flipbooks?
Here are some reasons why it would be beneficial for you to use flipbooks in captivating clients:
They Resonate With Clients
The Social Science Research Network reported that 65% of human beings are visual learners. This means there's a high probability that your clients respond better to visual content. By choosing flipbooks as a visual aid, you're already bridging the gap that causes miscommunication.
What about the 35% who are non-visual learners? Don't worry, because according to other studies, visuals aids generally improve learning by up to 400%. The human brain can process visual information faster than text. So regardless of the learning style of your client, you'll benefit from capitalizing on visually-rich flipbooks.
You'll Become a More Persuasive Presenter
In another study, Management Information Systems professors at the University of Minnesota concluded that presentations with visual aids are 43% more persuasive than unaided ones. The researchers also found that comprehension and retention are further improved with the use of color and image enhancement. The benefits don't stop there. Colour images were also found to have the greatest impact in influencing audience action.
In short, presentations with color images yield enhanced audience attention, comprehension, retention, and action. Using visual presentations this way will turn you into a persuasive presenter. These are exactly what flipbooks afford you, and more.
Flipbooks not only allow you to use color images but also enable you to play with multimedia. The tool also gives you flexibility as a marketer. You can select any type of publication that will best convey your message. From periodicals to comics, your options are limitless.
They're a Reliable Medium
Back in the heyday of print media, publishers and marketers were restrained by the limitations of the printing technology available. Although they wanted flashy photos, they had to settle for black and white images. Even with the emergence of color printing, there were still disparities between the digital model and reproduced print version.
With flipbooks, you no longer have to settle for duller versions. You can now present graphics in their intended form. You can even edit and enhance the image color and quality.
Captivate clients by providing them with a seamless viewing experience. As flipbooks are now viewable in HTML 5, they are web-friendly. You're assured that your content will load fast in any browser and on any device.
By using the right software, you can create professional-looking material. Not only that, you'll discover that work turnaround will be faster. In a matter of seconds, your clients can give you feedback and you can apply revisions directly on the file.
They Encourage Interactivity
The beauty of flipbooks lies in how they can engage an audience. They give you a medium where you can better communicate with your clients. Thanks to their features, flipbooks provide a certain level of interactivity, an aspect that traditional media lacks.
You can transform into a storyteller. Engage the different senses of your clients using videos, photos, and audio. Make your message clearer and more purposeful by playing with technology. Add fun elements like animations and pop-up images.
They're User-Friendly
You probably know by now that reception is equally important to how you deliver your message. This factor is largely influenced by how easily your clients can consume your material. Flipbooks can earn you many points in this aspect.
Your clients can consume your flipbook by simply clicking a link. They can read it even while lying down. They can stop and resume at any time it's convenient.
Since it's accessible on your client's device, they'll be able to browse it using familiar settings. It gives them intuitive control. Each client can adjust the brightness, text size and zoom level based on their preference. Searching keywords and bookmarking pages within the document also becomes easier.
They're a Cost-Effective Tool
As a marketing tool, flipbooks are cheaper as they allow you to save on printing costs. They also reduce your promotional expenses. Compared to traditional print marketing, you have greater reach. Because they are accessible via the Internet, you can target clients from around the globe without extra expenditure on your end. You can share them on your social media accounts. Clients can also share them with their own networks with ease.
The above-mentioned characteristics of flipbooks make them a powerful marketing tool. They are designed to eliminate the limitations of traditional print media. With flipbooks at your disposal, you're on your way to becoming a rock-star marketer.
Swati is a nature-freak, loves traveling and capturing unforgettable memories along the way. She loves singing and driving – often, both at the same time. Her favorite pastime is to hang out with her family and friends. She believes in work hard and party harder. Swati is responsible for developing and promoting business interactions for Pixelo – an amazing platform of handpicked design deals and bundles for creative professionals. Get in touch with her on Facebook, Pinterest, and Instagram.