Are you looking for great WordPress Twitter plugins?
Maybe you want to add and include your recent tweets on your site to encourage visitors or share your content.
In our blog post today, we will share the best Twitter plugins for WordPress that will help you increase your Twitter followers and engagement.
 8 Best WordPress Twitter Plugins
Smash Balloon Custom Twitter Feeds Pro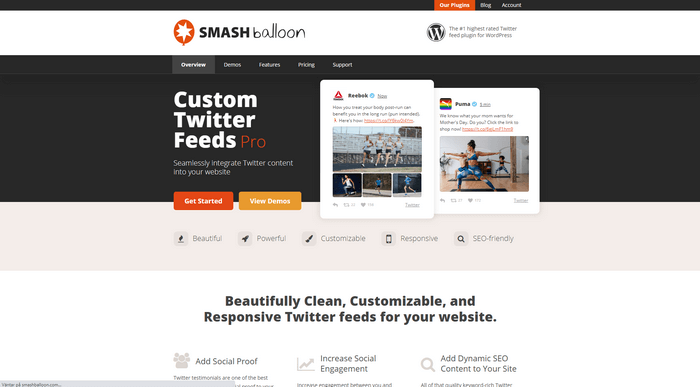 Smash Balloon Custom Twitter Feeds Pro is one of the best WordPress Twitter plugins. It allows you to embed your recent tweets in WordPress easily.
The plugin comes with various layout options and customization options that give you different ways to display tweets on your site.
You can add Tweets not just from your account but from any public account, hashtag, and keyword. You can also combine several accounts and keywords to create smart Twitter feeds.
It is compatible with the default WordPress editor, and you can add your font using a simple block. There is also an easy-to-use sidebar widget that allows you to display Twitter feeds in non-content areas of your website.
There is a free version of Custom Twitter Feeds available, however, with limited features, but perfect to get started with.
RafflePress
RafflePress is one of the best WordPress giveaway plugins on the market. It allows you to set up contests with prizes, and you can use them to get more followers and participation on Twitter.
RafflePress includes a built-in campaign template for Twitter. It allows you to launch a contest aimed at boosting Twitter engagement instantly.
It's straightforward to use and comes with a drag-and-drop content generator. Just add the actions you want to include in your contest and add them to any WordPress page or post.
RafflePress is not just limited to just Twitter. You can use it to grow and increase your email list, Facebook likes, increase traffic and boost sales to your ecommerce store, etc.
Note: You can use RafflePress Lite (the free version) to get started with contests and giveaways.
Shared Counts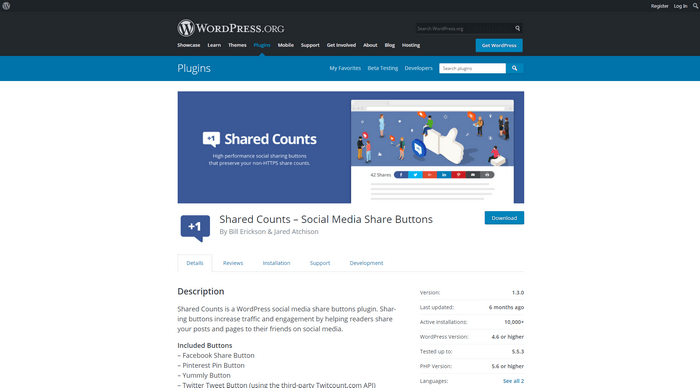 Shared Counts is a great social sharing plugin for WordPress. However, unlike other social sharing buttons, it is designed for speed and performance without compromising features.
As the name suggests, it also allows you to display each social media platform's share count. You can also display the total share count for each item.
There are several styles of buttons to choose from, and you can also select where you want them to be displayed. It is effortless to use and instantly adds social features to your website without compromising website speed.
To get started, check out our step-by-step guide on using Shared Counts.
Social Warfare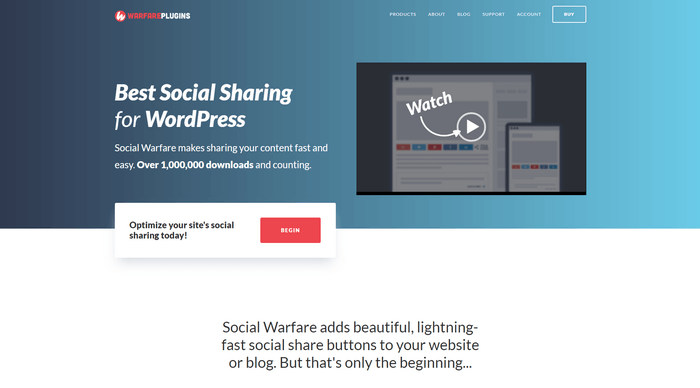 Social Warfare is another popular plugin for buttons for easy social sharing on your website. It allows you control over what people share on Twitter (and other social network channels) and how they share it. You can also give your posts custom Twitter captions and images.
Social Warfare offers several styles of buttons, and all are designed to work well on mobile devices. You can also design and place them in different ways. You can even put the share buttons in the middle of an article.
There is a free version of Social Warfare available to start with. You can also upgrade to the Pro version, which gives you access to more features.
Revive Old Posts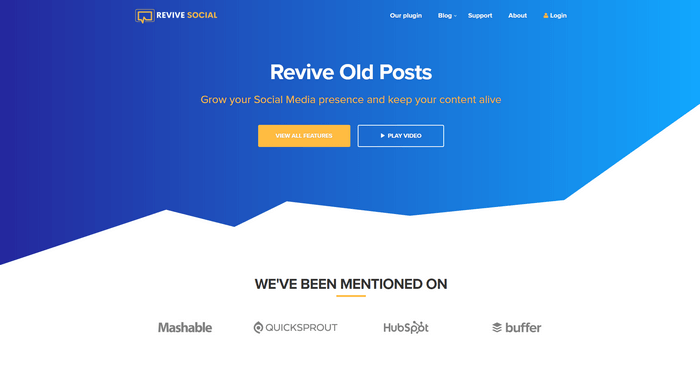 Revive Old Posts allows you to easily share old articles on your social media profiles at a predefined time. For example, it helps you keep your Twitter timeline active throughout the day without manually scheduling tweets.
Once you're done with the setup, it works automatically in the back to share your older posts. You can pick a date range, exclude specific categories and tags, and pause it at any time.
You can also customize what appears in tweets. For example, you might want to include a hashtag based on the post's category or tag.
The free version of the plugin works with Twitter and Facebook pages, so you may want to use it to get started.
However, the pro version has some powerful additional features. These include the ability to set custom hours, use multiple Twitter accounts, and add conversion tracking tags to URLs.
Simple Social Icons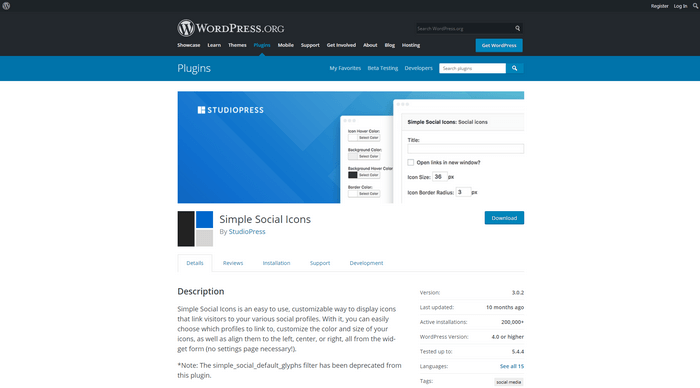 Simple Social Icons make it simple to add and include social media icons to a sidebar widget. The icons links to your Twitter profile and your other social media profiles. Visitors to your site can easily find and follow you on their favorite social network.
It is straightforward and easy to configure. You have the option of choosing the colors, alignment, and order of the buttons. In addition, the plugin includes an easy-to-use widget that you can add to your WP blog.
Better Click to Tweet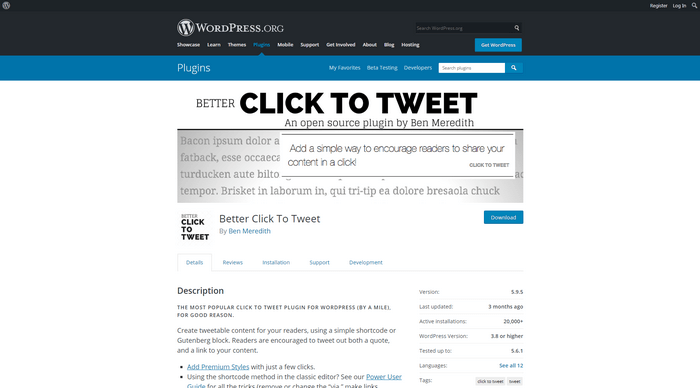 Better Click to Tweet is a great free plugin that allows you to add 'click to tweet' boxes on your posts. It is fully compatible with the WordPress block editor.
You can use this plugin to highlight specific quotes in your content. Then, your visitors can click a button to Tweet that quote. For more details, check out our guide on adding click-to-Tweet boxes to your content.
The Better Click to Tweet plugin is free, but you don't have the option to customize your quotes' style. Instead, you can add custom CSS to change the look of quotes or pay for the premium plugin, which offers various styles to choose from.
We hope this article has helped you learn about the best Twitter plugins for WordPress. You may also be interested in a WordPress developer for your project.
Twitter Feed WordPress Plugin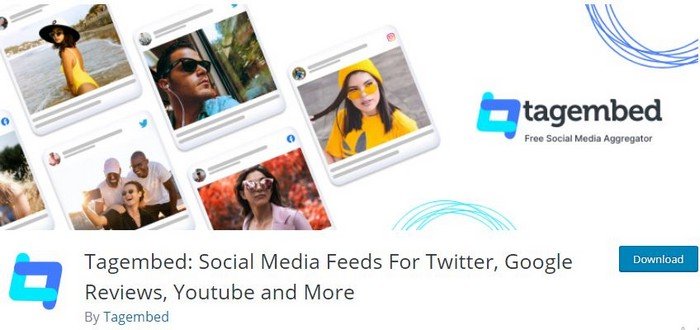 Twitter Feed WordPress Plugin is an amazing tool that helps you to collect content from Twitter, allows you to curate and customize the feed before displaying them beautifully on your website.
The tool provides you with a responsive feed, which means it adjusts automatically according to the size of the screen. So it does not matter what device your visitor is using; the charm of the feed remains the same. Moreover, whether it is text content or visual-based content, it displays them without affecting the website's speed.
It also allows you to customize the theme as per your requirements; you can choose text size, text style, theme, and more, and match the feed as per the style of your website. The tool is compatible with WordPress plugin version 1.4 and higher.
Along with Twitter, it is also compatible with 15+ other social media platforms, including all major platforms like Facebook, Instagram, Google Reviews, Linkedin, TikTok, YouTube, etc.
Author Bio
My name is Naina Sharma, an SEO Manager and Technical blogger. I am working in a WordPress development company and did a professional license in WordPress and web strategies. I hope that this blog post will present a few straightforward and easy Twitter feed WordPress widget plugins that enable you to show anyone's Twitter feed and a lot more.
8 Best WordPress Twitter Plugins in 2021
Editorial Staff at WP Daily Coupons is a team of WordPress experts led by Peter Nilsson.