Do you want to stand out this summer with the most a-ma-zing T-shirts anyone has ever seen?
Now you have the freedom to choose from a large variety of designs to apply on regular T-shirts and turn them into your favorite pieces of clothing. You can create as many as you want and refresh your wardrobe just in time before summer gets here.
The Trending T-Shirt Design Bundle
This trending ​T-shirt design bundle​ is here to give you the freedom and help you express your style unconditionally. The 1000 designs in the bundle are split into 43 different categories of modern designs like sport, yoga fashion, gym, motivational quotes, and many others.
A
P

rice
Y

ou
C

annot
M

iss
You can now get all the 1000 designs in the T-Shirt design bundle at the incredible price of $29. That's pretty amazing, considering the amount and quality of the designs and the fact that the original price of the bundle was $999. Now it's your chance to get it at this price!
Suitable for Personal and Professional Projects
Create Your Trending T-shirts
You can choose from so many categories that it will be difficult for you to decide. You can use these beautiful designs to create your T-shirts that will express your personality. Forget about wandering the shops without finding that piece of clothing that speaks to you!
You now have the freedom to create it yourself, and the options are limitless – well, 1000 is the limit, but I would say that's almost limitless (I mean when the last time you had 1000 amazing t-shirt in one place was?
Create Some for Your Friends
Sharing is caring, right? Don't be an individualist and use your skills and this bundle to create amazing T-shirts for your friends as well.
There is plenty of designs you can choose from, so you do not have to worry that you will have the same T-shirts even if you are interested in the same subjects. And what if you do, after all? You are best buddies, right?
Surprise Your Clients With Personalized T-Shirts
Another great way you can use this bundle is to create gifts for your clients. Put aside all those traditional notebooks and mugs. It's time you surprised your clients with fashionable T-shirts.
Think about all those long talks you had and remember what they like to do in their free time. They will love it if you give them a hobby-related gift. It makes them feel important and listened to.
Start Your Own Little Business
It might sound a little bit far-fetched, but if you are a graphic designer searching for a great business idea, this could be it. If you want to create and sell personalized T-shirt designs, this extensive bundle is all you need.
43 Trending Styles
That's right. You read it correctly. This T-Shirt design bundle gives you no less than 43 designs to choose from. If you want to find out more about them and see which one is suitable for your style and personality, read on!
Summer Designs
Summer is just around the corner, so this is a category that can suit anyone. There are pastel colors, soothing and in tune with the warmer days to come, and also bright colors that remind you of all the intense and sunny days spent eating ice cream on the beach.
TV and Movies T-Shirt Designs
Design and chill" are the new trendy! Use your skills to bring the characters of your favorite TVshows to life! More than a T-shirt, this project could turn into a great conversation starter, whether you are at a party, on the beach or in the park.
Cartoon Designs
Little ones can also be trendy, and this category is exactly what they need. Cute characters team up with funny messages just to create the perfect T-shirt for children. But this does not mean they are childish T-shirts; anyone with a sense of humor can wear them.
Zombie/Monster Designs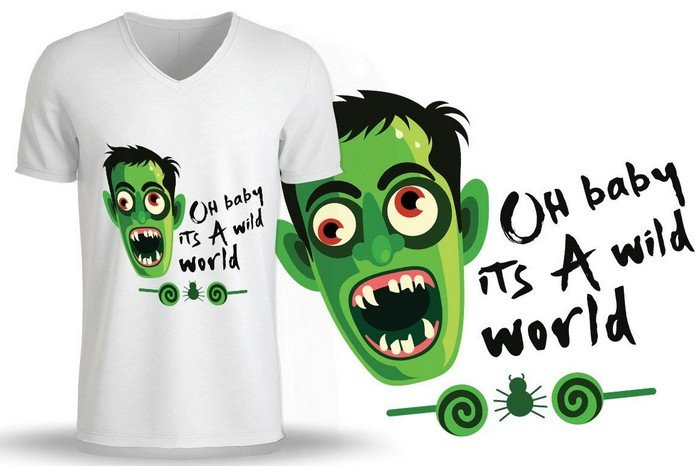 Are you a horror movie fan? This category is just what you need. If you plan to organize a horror movie night with your friends, you could create matching T-shirts for everyone. In this way, it will be easier for you to get into the mood, and those Instagram pictures will be awesome!
Adventure Designs
If you are an outdoorsy person, always planning trips to the mountains and spending your holidays in tents, this design is what you need. You will now have ​adventure​ written all over you!
Fashion Prints
This design category was created, especially for the trendy girls in your life. Surprising them with a T-shirt that says" Je t 'aime Paris" will make them fall in love in a heartbeat.
Wrapping Up
These are only some examples of how great this T-shirt design bundle from Pixelo is.
There is so much more you have to discover and enjoy! Just take your time to go through all the categories, and you'll see this T-shirt design bundle is precisely what you need to stand out this summer.
This T-Shirt Design Bundle is only available for a limited time, so hurry up to grab this T-Shirt design bundle with all beautiful designs.
The Trending T-Shirt Design Bundle That Costs Only $29
Editorial Staff at WP Daily Coupons is a team of WordPress experts led by Peter Nilsson.