How to Prevent Spam on Your WordPress Site or Blog: 6 Helpful Tips
It's hard to avoid spamming, especially when you have a website or blog with an open comment section. Unfortunately, where there are comments, there is spam and you have to deal with it.
While you cannot stop this entirely, you can make the cleaning process faster and easier.
To free you from a necessity to delete useless comments manually, WordPress has created an anti-spam tool as well as a number of discussion settings you can adjust.
How to Prevent Spam on Your WordPress Site or Blog
Now we are going to provide six simple tips you should try to decrease the amount of spam on your website. Here we go.
Install Akismet
Akismet is a WordPress anti-spam tool that will help you categorize comments and delete those that are considered as spam. This instrument is advanced enough to recognize spam of all types since it has access to a large database.
Also, it displays the comments that look like spam, so you can review the results yourself and adjust them if you want. The managing process is automatized, but you still have an opportunity to check and control it.
Create a List of Forbidden Words
Next, you can create a blacklist of words usually used in spam-messages and your website will recognize them before they become available for the public. To do so, go to your WordPress dashboard and then open Settings > Discussion > Comment Blacklist.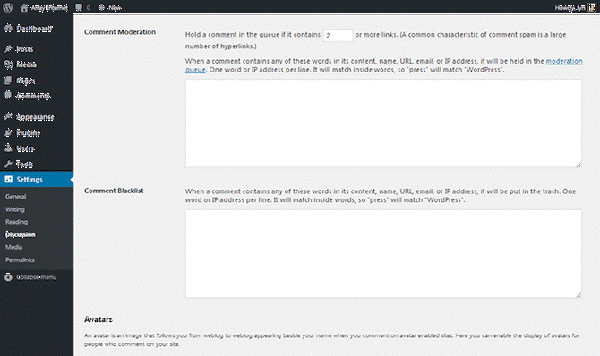 Before you enter the forbidden words, make sure that you make a research and read some recommendations. You need to be careful when including them since you risk to delete the messages that are not actually spam.
Permit Fewer Links in Posts
Traditionally, spam is an advertisement or malware, therefore in most case,s it includes links. For that reason, limiting a number of links one can locate in a comment is a good idea.
Of course, real users will have to post fewer links as well, but this is a good way to decrease the amount of spam without making too much inconvenience for the rest.
Go to your dashboard, click Settings > Discussions > Comment Moderation section. There you can mention the number of links one can include in a post. You can forbid any links at all if you want to.
Forbid Comment Posting for Those Who Are Not Registered
The more obstacles spammers will encounter, the better. Their purpose is to post as many messages as possible, so in most cases, they won't waste time to create an account with your site. You just need to restrict the commenting option and allow registered users to post freely. What is more, this will motivate visitors to create accounts.
Go to Settings > Discussion > Other comment settings. Then tick the box called Users must be registered and logged in to comment. That's all.
Activate Comment Moderation
If you are a blogger or professional writer, chances are that you don't have too much time to moderate the comments on your own. However, if you have an opportunity to track your comments, this can be a very efficient method.
Go to Settings > Discussion > check Comment must be manually approved. When you choose this option, all the comments will wait for your approval before appearing on the page. You can review them all and decide whether to leave or delete them. If your audience is not very active, this solution might be especially good.
Include Another Comment System

There are specialized comment systems like Disqus or Facebook comments section that are designed in a very sophisticated way, so they can clean your comments up smartly without your direct participation. These tools have been created by experienced developers with a solid background, therefore you can try them out.
Unfortunately, they won't work on every website, so you have to check if they are suitable for your particular resource.
Wrapping Up
Spammed comments section looks unprofessionally and makes a very negative impression on your readers. Such messages make your resource look unreliable, even if it is absolutely not your fault. In any case, you have to pay attention to this moment and devote your time to develop a solid strategy to fight spamming.
Install anti-spam plugins like Akismet, reduce the number of links per post, allow registered users to leave comments, make a blacklist of forbidden words, and try other tools and systems designed for comments.
These are the most basic practices you need to adopt. Of course, it is great when you have enough time and inspiration to check the comments on your own and decide whether to post them or not.
However, if you have an active audience that prefers to discuss your posts in detail, then it will be too difficult for you. Choose the methods that suit your particular resource best and combine them to reach desired results. In most cases, website owners and bloggers should come up with their own specific strategies that suit their particular needs.
With these tips at hand, you will know where to start. Good luck in your struggle against spam!
Jennifer Pauli graduated from Corvinus School of Management and finished the faculty of Journalism at the Corvinus University of Budapest. Currently, She is an editor, business writer, and copywriter, working with well-known companies, blogs, and personalities. Follow her on Twitter, G+ and read the personal blog.