15 Celebrities and Bands Using WordPress
There are so many celebrities in films, music, sports, dance, etc. Many well-known faces that you often see on TV, cinema or in ads.
We all have our favorite actors, singers, sports profiles or bands we like. What are your favorites? Likely you follow some or many of them on social media like Facebook, Twitter, Instagram or on other social networks?
But what about their websites? Have you visited them?
No?
Then you might find it interesting to see how these celebrities websites look like? In this article, we list 15 celebrities and bands using WordPress for their websites.
WordPress is the most used content management system (CMS). Over 33% of all the websites in the world use WordPress.
So it's no big surprise that even celebrities (or the people behind) prefer this CMS.
WordPress is flexible, scalable and it is also possible to build any type of website. WordPress is suitable for all kind of niches.
Let's see how these famous celebrities WordPress websites look? Shall we?
15 Celebrities Websites Using WordPress
Sylvester Stallone
Sylvester Stallone is an American actor best known for the Rocky and Rambo movies. He has also written, directed and participated in a number of other big films. Sylvester Stallone's website running on WordPress. The website is clean, minimalist and great looking. Visit the website.
John Grisham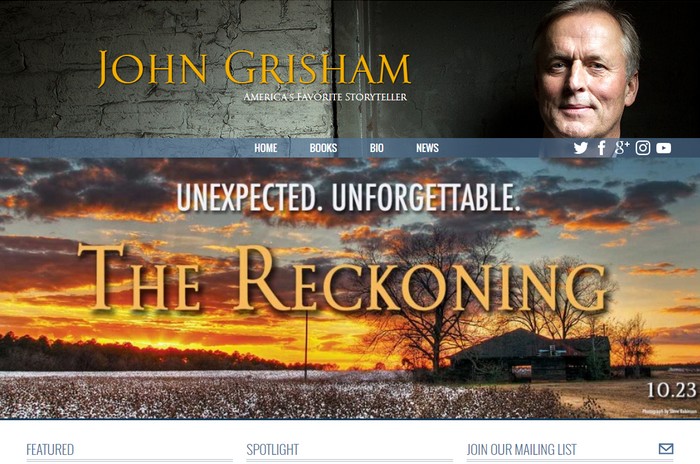 John Grisham is an American author who has written many bestsellers such as The Firm. His website is also built with WordPress. The website layout is clean and spacious and looks elegant. Visit the website.
Russell Brand
Russell Brand is a famous English comedian, actor, and author. He started as a stand-up comedian and has participated in many productions and films such as Arthur and Get Him to the Greek. Visit the website.
Stephen Fry
Stephen Fry is a well-known English comedian, actor, writer and director. He has participated in many productions for television such as Blackadder, Kingdom, and Bones. Visit the website.
Usain Bolt
Usain Bolt is a known Jamaican sprinter. He is now retired. He also is a world record holder in the 100 meters, 200, and 4 × 100 meters relay. Usain is an Olympic Games champion. He is also a world record holder at the distances 100 meters, 200 meters, and 4 × 100 meters relay. Visit the website.
Leonardo DiCaprio
Leonardo DiCaprio is a well-known American actor and film producer. I guess most of you have seen the movie Titanic with DiCaprio starring. Great movie, right? DiCaprio has appeared in a large number of other well-known films such as What's Eating Gilbert Grape, Gangs of New York and The Great Gatsby. Visit the website.
Channing Tatum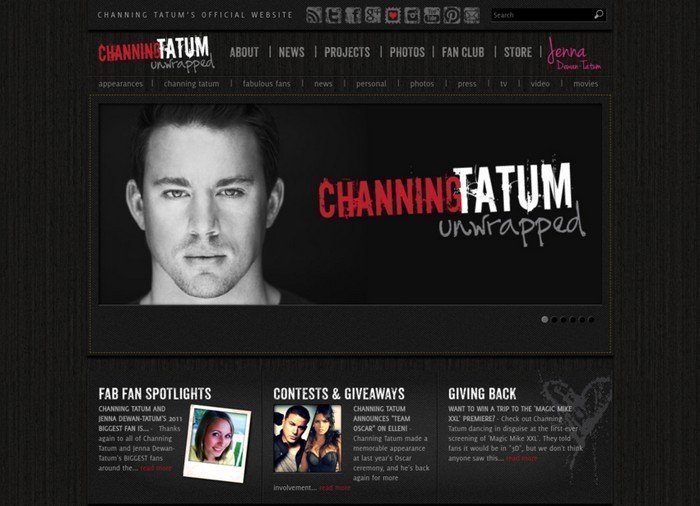 Channing Tatum is another American actor and also a singer which many people maybe did not know! Some films that Channing Tatum participate in are G.I. Joe: The Rise of Cobra, White House Down, and The Hateful Eight. He has also appeared in Ricky Martin's "She Bangs" music video as a dancer. But also other popular music videos. Visit the website.
William Shatner
William Shatner is a legendary actor, author, producer, director, and also a singer. He has been in the business for over seven decades. One of his most famous roles is like Captain James T. Kirk of the USS Enterprise. He has also participated in many television series such as T.J. Hooker, 3rd Rock from the Sun and Denny Crane. Visit the website.
Alec Baldwin
Alec Baldwin, (Alexander Rae "Alec" Baldwin III) is also an American actor, writer, and producer. He is the oldest of the four Baldwin brothers. He has appeared in many films such as The Hunt for Red October, The Aviator, and Mission Impossible. Visit the website.
Katy Perry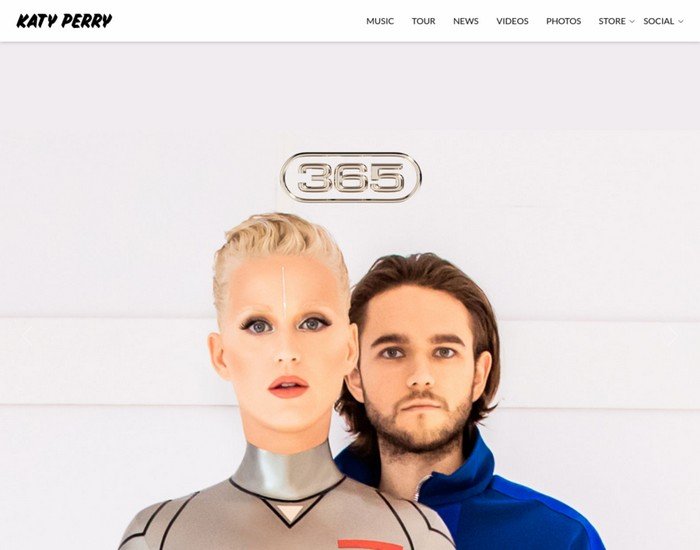 Katy Perry is a popular singer and songwriter. Some of her hits are I Kissed a Girl, Roar and Dark Horse. She has received many awards over the years such as the 5 American Music Awards. Visit the website.
Maria Sharapova
Maria Sharapova is a professional tennis player from Russia. But is a United States resident since 1994. She has been ranked number 1 in singles. She is an Olympic medalist and holds five Grand Slam titles. Visit the website.
Steven Seagal
Steven Seagal is an American actor, screenwriter, and martial artist. He has 7th-then black belt in aikido and has been a martial arts instructor in Japan. He has starred in lots of movies with a great focus on action. Visit the website.
Blondie
Blondie was founded by Debbie Harry and Chris Stein back in 1974. It is an American rock band with roots in new wave and punk. The band has produced numerous hits on the charts with songs like Call Me, Heart of Glass and Maria. The band continues to deliver even after all these years in the industry. The latest album Pollinator was released in 2017. Visit the website.
Alanis Morissette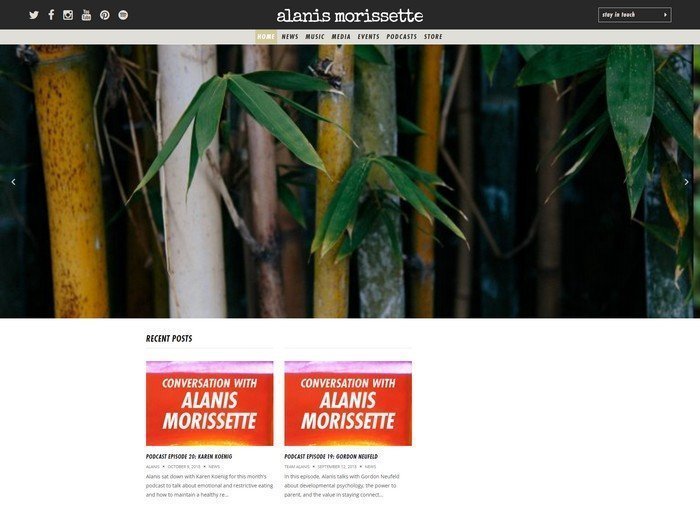 Alanis Morissette is a famous singer, songwriter, and actress from Canada. She is known for her mezzo-soprano voice. One of her albums Jagged Little Pill from 1995 sold more than 33 million copies. Alanis Morissette has sold more than 75 million records worldwide. Visit the website.
Justin Bieber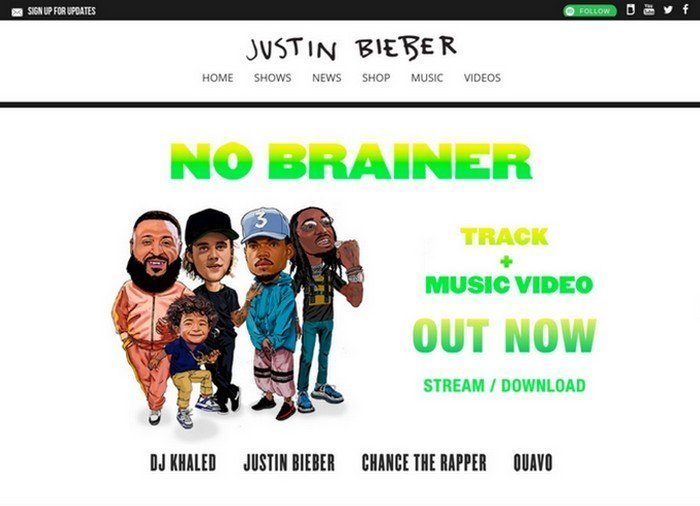 Justin Bieber is a singer and songwriter from Canada. He released his album My World 2.0, in 2010. It hit as number one in several countries. He has since then released several albums, a 3D biopic-concert film, and has won several prestigious awards through his career. Visit the website.
Wrapping Up
It is fun for us "old" WordPress geeks who have been involved in WordPress for many years to see the increase and spread of WordPress. It is no longer a simple blog platform as it was from the start. WordPress has evolved innovatively over the years and is now used in many various niches and contexts.
It is shown in the article that also celebrities, bands, authorities and more are investing in using WordPress as a website platform. I have listed some of the celebrities and bands. There are many more of course.
Are you missing someone special? Add a comment with your favorite actor, singer or band so we can expand the list of celebrities.
Editorial Staff at WP Daily Coupons is a team of WordPress experts led by Peter Nilsson.