[Case Study] How to Build Restaurant Website With Betasso WordPress Theme?
A website building can be compared to cooking. It is almost the same process. The only difference here is the place where this process takes its place.
When it comes to building your new food and restaurant website, it is possible to imagine that you are in the kitchen. Imagine that you are cooking a delicious dish that should be to everyone's taste. Yet it is always important to find an ingredient that will become a celebrity of your meal.
We can help you in choosing the most an appropriate template for your next online project. Welcome to our digital kitchen and let us get familiar with Betasso WordPress theme together…
Betasso WordPress Theme: Our Favorite Among Food Templates
There are lots of people who consider themselves to be gourmets in terms of web design. You should impress all of them. Together with this tasty ready-made solution, you will not have troubles in this very mission. Yet, first of all, we want you to get familiar with every single detail regarding one of the most impressive restaurant WordPress themes called Betasso. Let us make an acquaintance with this visually-attractive template step by step.
An Easy-to-Use Drag-and-Drop Builder: Some people may dream of getting yummy dishes with very little effort. The same thing can be said about building a restaurant website. Using this user-friendly drag-and-drop builder, everything becomes extremely easy. There is no need to start learning coding and everything connected with it. You will get a huge set of advanced options that allows giving your website a special identity. This means that your online-project will be impossible to be compared to others.
Multiple Layout Options: Each cook likes experimenting with his or her dishes. As an example, it is possible to add some new seasonings, sauces, and so on and so forth. Betasso also comes together with an incredible collection of layout options. This feature allows making changes in the structure of the layout and speeding up your website building process.
Different Content Modules: Your future online-project should look like a splash of different elements. Add multiple content types to your website in order to provide all visitors with the excellent user experience. Buttons, pricing tables, images, sliders, contact forms, and many others… Each of these elements comes alongside an extended set of options that you can work with. In such a way, it will take you nothing to match your main concept.
A Marvelous Appointment Manager: We have already mentioned the importance of the user experience. There is one more thing that can do it even better. Just take advantage of the amazing appointment manager. It will allow customers to book an appointment directly on the website. Organize your schedule and become more productive together with this splendid functionality.
Lots of Custom Widgets: Give your website an icing on the cake. Make use of the attention-grabbing slider and post carousel in order to highlight the needed information. It will be also possible to spread the word about your website. Different social widgets will allow all cooking-fans to find out more about your cooking online-project.
An Impressive Restaurant Menu: This superb plugin will assist you in building online-menus for your cafes and restaurants. You can easily display it in posts, sidebars, and pages.
A Fully-Responsive Design: Your website should find favor in the eyes of all possible visitors. A fully-responsive and mobile-first design will allow people to use different devices to browse your online-project.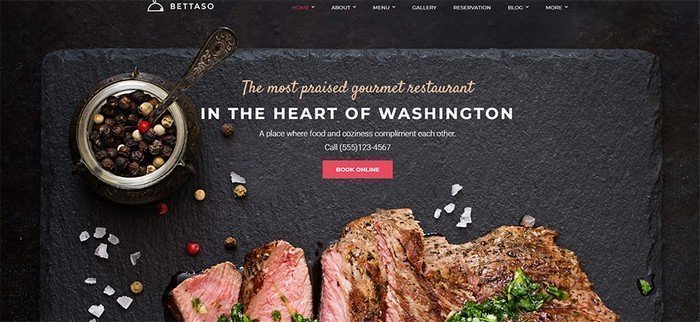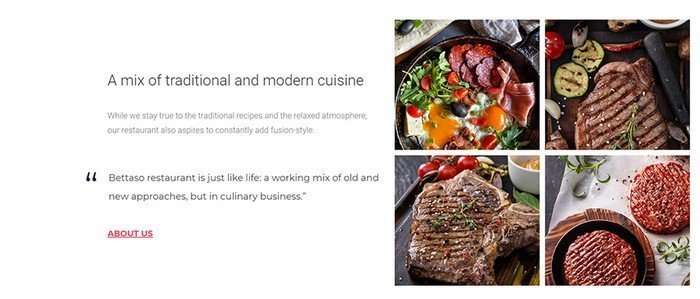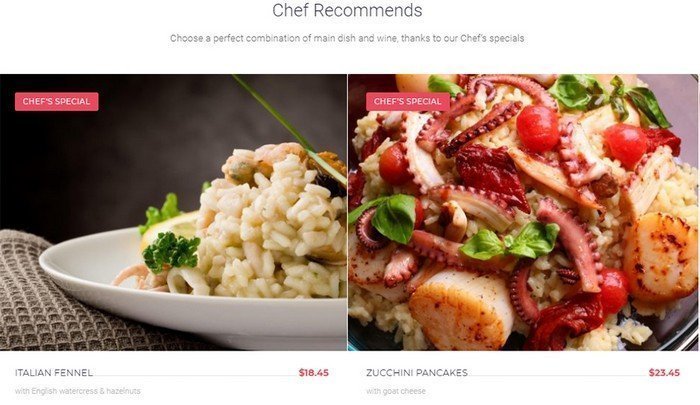 Together with Betasso: The Brightest Restaurant Website Examples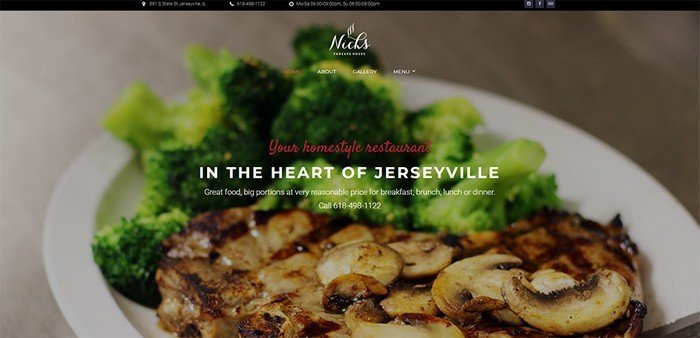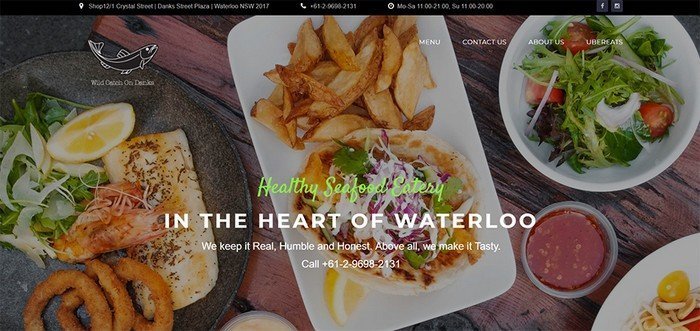 More Restaurant WordPress Themes to Take Advantage of
Actually, there are even more restaurant WordPress themes that you can choose between.
Eat Time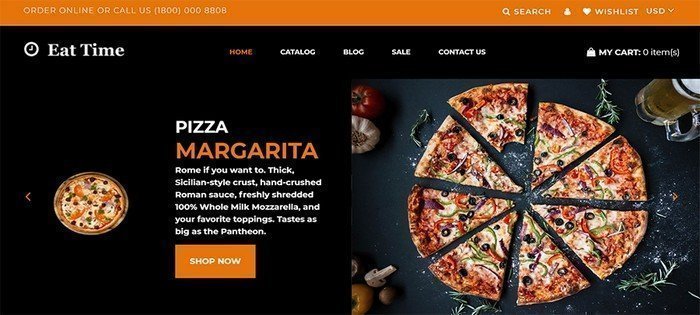 An extremely vibrant template that will provide you with a distinctive design for your restaurant online-project. You definitely deserve to get such an eye-catching design that will impress every single person.
Main Features:
A great multilingual and multi-currency functionality;
Various social options;
Great search, newsletter subscription, and contact form;
Collections catalog, sorting options, and brands;
Powerful product quick view, Ajax cart, and product carousel;
Marvelous mega-menu and blog;
Fully-functional Shopify Page Builder that will not limit your imagination.
Trattorio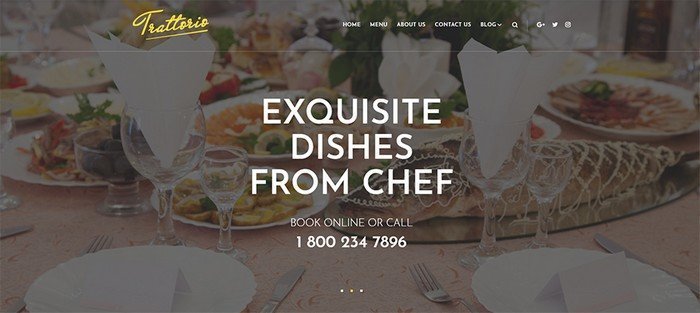 An elegant template that will showcase your exclusive dishes in the best possible light. Allow people to experience not only the most delicious dishes but also the most delicious website design.
Main Features:
Marvelous Elementor Page Builder with the complete package of widgets;
Four blog layouts;
Google Fonts integrated;
Various popular plugins are also included;
An amazing mega-menu;
Multiple footer layouts;
A fully-responsive design.
La Food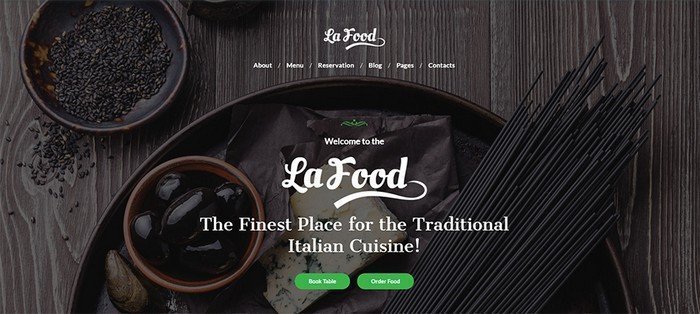 If you are interested in presenting your Italian restaurant on the web, pay your attention to this incredible ready-made solution. It will present this very cuisine in the most pleasant and remarkable way ever.
Main Features:
A fully-fledged WordPress Live Customizer;
Impressive set of custom widgets;
Great opportunity to present your team, events, recipes, and other exciting things;
A huge package of Cherry Plugins;
Seven header layouts;
Different content modules;
Lots of attention-grabbing layout options.
Delicia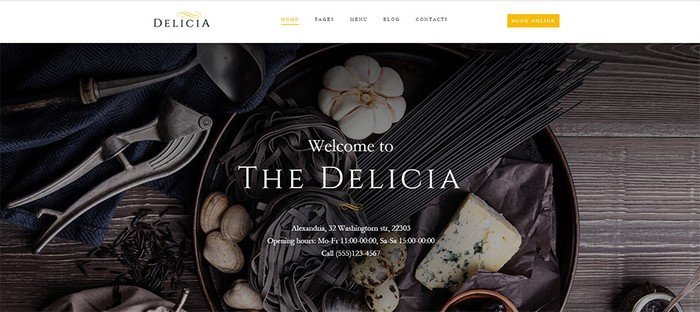 Delicia is a stunning theme that can assist you in showcasing all possible cuisines on the Internet. With the help of this ready-made solution, you can definitely show your passion for cooking.
Main Features:
A user-friendly drag-and-drop builder that requires no coding from you;
Various Cherry Plugins to present services, projects, and other aspects;
A great set of layout options;
An excellent appointment manager;
Lots of marvelous additional pages;
Powerful custom widgets;
Different variants of the header.
Gastronomix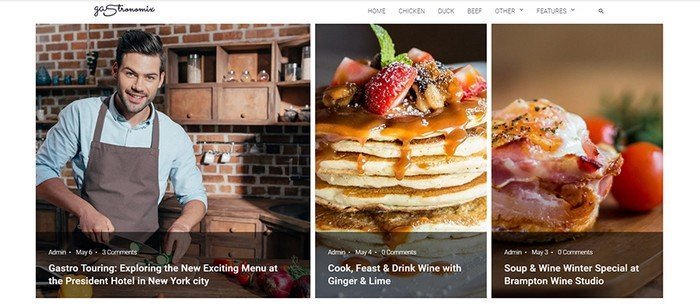 A wonderful ready-made template that looks like a marvelous mix of the vibrant design and excellent functionality. Together with its set of advanced options, you can easily create a popular recipe blog.
Main Features:
A wide range of eye-catching pages to present your recipes at their best;
Delightful topical images;
Seven blog layouts;
10 single post variations;
Collection of modern Google Fonts;
Amazing WPML-functionality;
Superb Elementor Page Builder.
A Few Words in Conclusion
The presentation of the meal on the plate is an extremely important thing. When you decide to familiarize people with your restaurant, its online-presentation becomes one more important thing. Make sure that your future website connected with food will be unmatched in its look and functionality.
We hope that Betasso (or another ready-made template featured in this article) has already caught your eye for your restaurant website. Become a cooking genius in the digital world together with one of these solutions. They will certainly become your marvelous assistants in this purpose. Thanks for reading!
Editorial Staff at WP Daily Coupons is a team of WordPress experts led by Peter Nilsson.