How to Add Google Analytics to WordPress
Google Analytics is the most powerful web tool out there that does a great job in tracking and monitoring your site's performance. Many marketers, website owners, and even amateur bloggers take advantage of Google Analytics to drive more traffic, engage readers, measure conversions, improve sales, etc.
Within the last years, Google Analytics has evolved in a way that it now provides integration with many CMS including WordPress. In this post I'll walk you through the steps you'll need to take to access all your Google Analytics reports directly from your WordPress dashboard. No coding skills required!
We'll be using Google Analytics WD WordPress plugin, which is the most user-friendly yet feature-packed analytics plugin I've come across so far. So, let's go.
First of all, you'll need to set up a Google Analytics account for your website in case you don't yet have one. You can do it easily by signing up right here https://analytics.google.com. Once your account is ready, you're good to go.
Installation
Now's the time to install Google Analytics WD on your website. There are several ways you can do it. You can either install the plugin from your dashboard's plugin section by typing Google Analytics WD in the search box. Or you can download the plugin from the WordPress directory and the plugin's official page. Before we proceed to the steps, make sure to take a look at the introductory video of the plugin to get an idea of how it works.
Here is a short introductory video to Google Analytics WD you can check out.
Setup
After you install the plugin, it will first ask you for the account authentication. To do so, you need to copy your site's tracking code and paste it in the relevant input field. This is to allow the plugin to connect to your account. Once you enter the tracking code, the plugin will be activated.
Tracking
Once the plugin is activated, it will take you to the tracking page. It's the section where you can adjust and control all of the plugin's tracking options. You can enable/disable functions to anonymize IP addresses, enhanced link attribution, outbound links tracking, and download tracking.
Under the tracking options, you'll find custom dimensions. These are dimensions that Google Analytics doesn't automatically track, which you can configure yourself. Custom dimensions allow you to track specific data you're interested in. You can enable tracking data based on logged in users and authors, post type and category, tags, and post publishing month or year.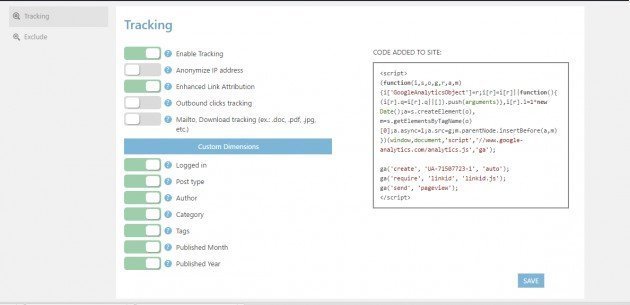 From the same page, you can also set to exclude specific users or users roles from the reports, such as administrators, editors, authors, contributors, and subscribers. Any interaction from these users will not be included in the reports.
Overview
Google Analytics WD comes with an overview page, where you can throw a quick look at some of your website stats. The overview page gives you quick info of the real-time visitors, audience, new and returning visitors; browsers used while interacting on your site and locations where your visitors come from.
Reports
The plugin gives you accurate and detailed reports for almost every aspect of your site. The built-in reports provide you with data on your audience, user behavior and interests, traffic sources, browsers, operating systems used while interacting on your site, and more.
Google Analytics WD also provides reports on your AdSense and AdWords accounts, as well as eCommerce sales stats. Just link your AdSense and AdWords account to your Google Analytics account and access the stats from the plugin's reporting page.
Here is the full list of the built-in report types.
 Audience
Real Time Visitors
Demographics
User Interests
GEO
User Behavior
Technology
Mobile
Custom Dimensions
Traffic Source
AdWords
Site Content
Site Speed
Events
Goals
Ecommerce
AdSense
The reports are responsive and come in comprehensive, colorful charts. You can download the reports in PDF or CSV formats, or email them to multiple recipients. The best thing, however, is that you can compare reports of two periods, based either on the fixed period range or choosing the custom period with the date picker.
Custom Reports
Apart from the built-in reporting types, Google Analytics WD lets you track and get data for any metric and dimension that's crucial for your site or business. This is a great option to get stats for the metrics that Google Analytics doesn't initially track.
To set a custom report go to the plugin's custom reports section and choose the relevant parameters and dimensions you want to track. For example, you can set "organic searches" as the metric and "Keyword" as the dimension, and have a report of the keywords, which users use to find your website with search engines.
All the custom reports are accessed from the plugin's reporting page.
Goal Management
Goals are specific actions your visitors accomplish on your website. They measure how well your site does in fulfilling targeted activities. Google Analytics WD allows you to create and manage goals and get notified whenever the goal is accomplished.
To set a goal, go to the goal management section in the plugin admin area and select the appropriate options you want to track. The goals come in three types: destination, duration and pages/screen per session. For example, you can set a goal to track visiting a specific page or track when sessions for a page are greater or lesser than a defined number.

Filters
Google Analytics WD comes with data filtering functionality. Which allows you to filter out specific IP addresses, countries, cities and regions from reports. This is a great option to avoid collecting data from the sources not relevant to your interests.
Alerts and Pushover Notifications
Alert and Pushover notifications are here to keep you posted about the highest or lowest number of Sessions, Bounces, Users, or Session Durations on your website. You can set a period for receiving alerts, such as daily, weekly or monthly. If you'd like to receive a notification via Pushover make sure to provide your email address.

Wrapping Up
Google Analytics WD is the easiest way to add Google Analytics to your WordPress website. It has a very straightforward backend which makes it easy to set and analyze reports. It comes with detailed documentation and has a dedicated team of support ready to provide timely assistance.

Gayane Mar is the founder of WPCapitan.com, a WordPress enthusiast, and blogger. She is a contributing author to a plenty of well-known WordPress related blogs and enjoys sharing her experience to help people with WordPress.