Earn Cashback Bonuses as You Buy Themes from TemplateMonster
Recently, TemplateMonster digital marketplace has launched a loyalty program, letting all customers earn bonuses as they buy digital products. As far as I remember, this is the first time that a digital company launches such an initiative. It's a more habitual thing for the fast-food restaurants and retail stores to launch loyalty programs in order to keep their customers happy. From now on, all fans of the quality web designs can receive bonuses from each new order that is being placed in the TemplateMonster digital marketplace.
There are no specials terms and conditions on how to join the loyalty program. Launched on November 13, 2017, the initiative is applied to almost all items from templatemonster.com. It also doesn't matter if you are a new or a returning customer. From now on, you will be able to earn up to 30% of cashback bonuses for the new order placed in the marketplace. The main thing that you need to remember is that the more order you place, the more money you will earn.
Whenever a vendor submits a new item to the digital marketplace. He can decide whether or not each particular item will participate in the loyalty program. At the moment, all themes participate in the special initiative. However, things may change in the future.
So, how can you find out is a specific item is included in the loyalty program? It' easy! Each time you reach a theme download page and find a recognizable loyalty program icon there. Be certain that you will be provided with the cashback for the purchase.
Loyalty Program Terms & Conditions
As part of the

TemplateMonster Loyalty Program

, you can earn 3%-30% in cashback bonuses. The amount of cash that you will earn depends on the order subtotal and the number of items that you have purchased since the commencement of the loyalty program.
The more bonuses you earn, the more cash you will save on the new purchases.
If you have earned enough bonuses, you can spend all of them to purchase other digital products that participate in the loyalty program. If you haven't earned enough, you can use bonuses to pay the partial order amount and use any other supported payment method to pay for the rest.
Even if you want to buy a digital product that is sold at a discount, you will still earn bonuses for its purchase.
The cashback bonuses are added only to the new orders that were placed on November 13, 2017, or later.
Free themes do not participate in the loyalty program and won't affect your personal ranking.
All bonuses that you earn are valid within 1 year since the commencement of the loyalty program. If you do not use them in time. they will simply expire.
How to Calculate Your Earnings?
TemplateMonster loyalty program provides a progressive bonus system. This means that the more orders you place, the more bonuses you will earn. Here is how it works: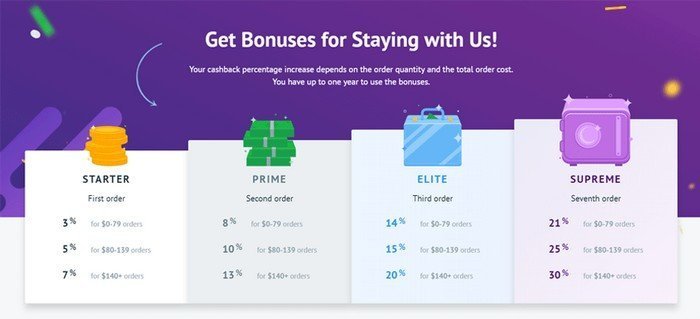 As you can see, paying $80-139 will bring you a different amount of earnings, depending on the quantities of orders that you have already placed.
So, what do you think about the new offer from TemplateMonster? Are you eager to earn bonuses in the digital marketplace?
Author Bio: This is a guest article written by the people from TemplateMonster.
Editorial Staff at WP Daily Coupons is a team of WordPress experts led by Peter Nilsson.